Students to ask Mayor for town hall at Georgetown ANC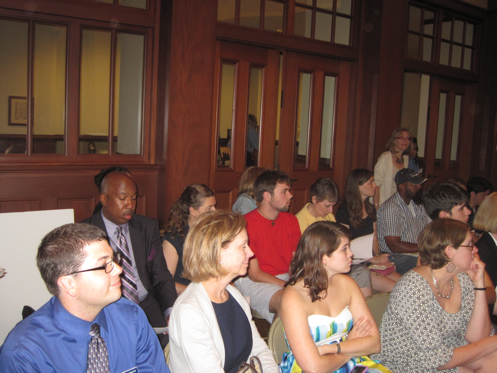 Georgetown University students led by ANC Commissioner Jake Sticka will propose that Mayor Vincent Gray hold a town-hall meeting for university students when he visits the Georgetown ANC Monday night at Georgetown Visitation School.
"The Mayor has held town hall meetings with other groups of students, and college students make up a large percentage of D.C. residents," Sticka said. According to the 2010 U.S. Census, there are over 60,000 D.C. residents between the ages of 20 and 24 -- or about 10 percent of the population.
Georgetown students are expressing disappointment with the redistricting plan submitted to the D.C. Council last week by ANC Commissioner Tom Birch. Over 40 students attended last month's ANC meeting, voicing strong opposition to an earlier version of the plan, which was later amended to reduce the differential between ANC district sizes. The current plan includes a student-dominated district of students of over 2300, which would be the largest district in the Georgetown ANC and one of the largest in the city, Sticka said.
Sticka called the plan "disappointing."
"The redistricting plan divides votes in a way that I'm not entirely comfortable with," he said. "We would like the council to hear what we are saying." Georgetown University was ranked #1 among the top 13 largest D.C. employers last year, according to an audit of the city's finances.
On another matter, Sticka criticized the University's handling of the eviction of The Georgetown Voice after two of its staff were arrested for evading security officers from a campus building during Hurricane Irene.
"I don't think it's a good precedent at all," Sticka said. "I'm a member of the College Democrats. If all 200 members of the organization were punished by the dumb actions of one or two, it wouldn't be good. I think it's very unfortunate."
The Voice, an alternative weekly and the publisher of the popular Vox Populi blog, has been a training ground for top journalists, including The Washington Post's Mike DeBonis.
The ANC Meeting is Monday, Oct. 3 at 6:30 pm at Georgetown Visitation at 35th and Volta Place, NW.