Strange Interlude: Must See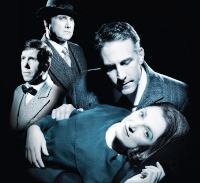 An evening with Eugene O'Neill is always interesting and I recommend that no one miss this great production of Strange Interlude at the Shakespeare Theatre.
When he wrote Strange Interlude and it appeared on Broadway it was as a six hour play with a dinner intermission. It won rave reviews, a Pulitzer Prize and played for over 400 performances, unheard of at that time. Now a six hour production would be hard to do in today's theatre world. But Michael Kahn, artistic director of the Shakespeare Theatre and director extraordinaire has trimmed it down to a more manageable length, keeping the story intact and providing for a totally engrossing evening, well worth the investment of your time.
It is the story of Nina Leeds' (Francesca Faridany) life and loves, often unfulfilled, that keeps you enthralled. Faridany is passionate and brilliant in the role. The story covers 25 years of Nina's life and begins when her father (Ted van Griethuysen) revealing that he was against her marriage to Gordon, never seen but who left for the war without marrying her and whose plane is shot down at the beginning of the play.
This event leads to Nina's changing her life, becoming a nurse, leaving the comfortable cloistered life she was born into, and entering a period of promiscuity before determining to look for "happiness" via a new marriage and children. Nina's life for the next twenty five years revolves around her four men; her husband Sam (Ted Koch); Ned (Baylen Thomas) her doctor and lover; old family friend Marsden (Robert Stanton) an author with Victorian views and a clear lack of understanding of even his own needs and desires, and her son Gordon (Jake Land).
The audacity of this evening in the theatre comes from Michael Kahn's willingness to stage this play, which he has pondered for literally decades, and bringing his passion for it to today's audiences. Times were very different when it was first staged nearly 100 years ago. But Kahn's genius is making it work today and finding an amazing cast (including; Rachel Spencer Hewitt, Tana Hicken, and Joe short) who bring the characters to life in a way that we can relate too. It is Freudian and serious, and with Michael's shrewd direction the humor that is part of these characters and their lives is brought out fully. By evening's end you realize that at different times you loved and hated, understood and were appalled by everyone in it. Adding to the production is the great but spare set design by Walt Spangler and costumes by Jane Greenwood.
Added to my experience with Strange Interlude was having drink's with the cast after the show and finding out how much they appreciated the opportunity to act in this O'Neill masterpiece and how they all felt that Michael Kahn brought out the best in their performance.
Don't miss this amazing night in the theatre. It may be many years before Strange Interlude is presented again. It will be at Shakespeare Theatre's beautiful Harman Hall until April 29th.