Stick Up at the Bank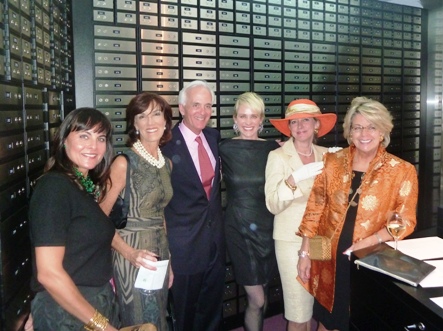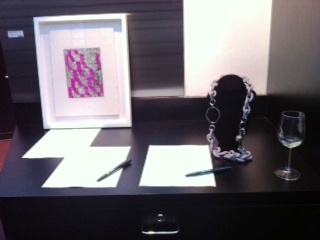 Georgetown residents gathered at TD Bank on Wisconsin Avenue Saturday night to support the CAG Summer Concerts in the Park and to help solve the mystery of the missing artwork …
It seemed like a typical Georgetown cocktail party – except it was in a bank. And the vault was wide open, with a Katherine Sable etching and Dianna Broussard necklace on open display. And the teller stations became a bar. The theme was The Thomas Crown Affair and suspects circulated through the party. Did you see Jack and Michelle Evans looking suspicious? Did Carol Joynt leave her pink backpack (!) in the vault? Does John Lever always attend a party pulling a roller bag? And when does Nancy Taylor Bubes have time to play a guitar?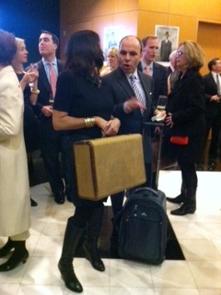 In the end, National Conservatory of Dramatic Arts president Ray Ficca, who played the 'detective' asked the question – was it Jennifer who stole the etching to curry favors from the mayor? Or Nancy Taylor Bubes – hoping it would help stage that house on 31st Street that needed that special something …
Masterfully concocted and executed by Kelly Doolan, Amy Kuhnert and the board members of the Concerts in the Park, the party was hosted by Georgetown TD bank manager Christian Videla.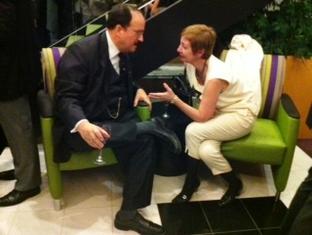 A special champagne toast and caramels from Fleurir were served in celebration of CAG's and Elizabeth Miller's 10th anniversary of the Concerts in the Parks.
The evening concluded with late night gourmet meatballs served hot in the bank parking lot, from the new food truck, BALL or Nothing.