Stewart v. O'Reilly Oct 6 at GWU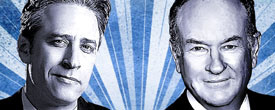 This should be fun. Comedy Central's Jon Stewart and Fox News host Bill O'Reilly will face off at George Washington University October 6, 2012 at 8:00 pm.
Former Fox and Friends host E.D. Hill will moderate the 90-minute debate, dubbed "The Rumble" with live streaming available for a fee.