Steve Gottlieb: Portrait of a Washington Photographer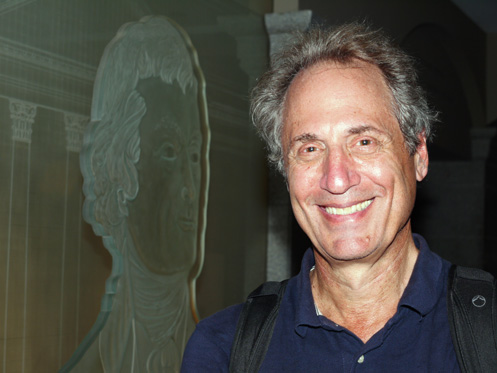 Why publish three books on Washington? If you ask nationally recognized photographer, Steve Gottlieb, he'll tell you, "It's about seeing a new side of an old friend." For this environmental/corporate attorney turned professional photographer, capturing our capital city in new and fresh ways has been a three decades-long project. Popular Photography described his work as "cityscapes that ... evade every cliché."
It was at one of his favorite places, the Thomas Jefferson Memorial (also the subject for his "Creative Vision" class slide show) that I caught up with Gottlieb. The challenge, he told me, "is to capture one of the world's most photographed places in a fresh way." One thing he looks for is "juxtaposing seemingly unrelated things." As if on cue, we came upon the memorial as the sea wall was being repaired. But we didn't have a ladder (he usually carries one) so the pinnacle of two cranes framing the top of the Washington Monument was not the right height for the shot. Instead we ambled around. Look for the back of my head reading Jefferson's etched words on the dome's interior in an upcoming Gottlieb book.
I was first introduced to his exquisite portraits of my BCF (best city-friend) 25 years ago while dining at Sea Catch restaurant (still one of my favorite Georgetown spots). Gottlieb's misty C&O Canal scenes adorned the brick walls, and hang there to this day. The first Washington: Portrait of a City book, published in 1985 contained several photographs that especially resonated with me then. One, the façade of the HUD building, Marcel Breuer's honey comb concrete structure as taken through a taxi window in the rain (taking photos in bad weather is one of his favorite activities). My former workplace never looked better. Another, the Dupont Circle metro station taken from atop its steep escalator, a block from where I then lived, and which I rode daily.
As I prepared to meet Gottlieb for this article, I looked through his first book again (as I have many, many times over the years) and suddenly noticed that his shot of Georgetown was taken on East Place, a block from where I now live. The facades of the four row houses are painted different colors now, but I always sensed a familiarity I realized derived from having first seen those houses through the lens of Steve Gottlieb. You'll have to wait until November 9th for the release of his third Washington: Portrait of a City (opening reception at the University of the District of Columbia) to see which new Georgetown spot he's included. I can tell you two new additions are the World War II Memorial and the Native American Museum.
In a photo from another stunningly beautiful book on "things of incredible emotional power," Abandoned America (selected as "Gift Book of the Year" by USA Today), Gottlieb describes a Pittsfield Massachusetts drive-in, long since in disuse, where, "the coming-of-age experience of taking a date to a drive-in ... is so embedded in the collective American consciousness that I easily envision myself as an 18-year-old at this drive-in, popcorn in my lap, my right hand tentatively wandering. You might call this 'faux déjà vu' -- an experience you're not having today triggering the memory of an experience you did not have in the past." There are photographs that speak to a generation, those that evoke nostalgia for our own personal history, and some that have become iconic through unforeseen events or simply because they are one with the place. Whenever we see their subject, our mind reflexively returns to how that visionary photographer first presented it to us.
For me, Steve Gottlieb is that photographer. Every time I watch early morning crewing on the Potomac, look up to see the triangular corners of I.M. Pei's East Wing of the National Gallery of Art meet the sky, or pause to notice row boats docked at Fletcher's Boat House, it is to Gottlieb's perfect capturing of those scenes to which I return. In addition to writing books on photography (there are six so far), Gottlieb teaches photography through his Horizon Photography Workshops and has recently introduced VisonMining. Recognizing that the approaches he developed for his photography classes could generate similar positive outcomes in the workplace, Gottlieb developed his photography-based approach for businesses. His techniques and exercises help students become demonstrably "more creative, productive, energized, mutually supportive and open to new viewpoints." What makes VisionMining's photography-based process so powerful? Gottlieb explains, "Essentially, photography operates as a metaphor, turning the mind in new directions without triggering the natural, knee-jerk resistance to change." It facilitates translating abstract concepts—like "thinking outside the box"—into tangible forms, and, in a group setting provokes discussions in non-threatening ways because ... everyone enjoys talking about pictures." Check out three upcoming Horizon Workshops on how to see familiar, iconic Washington in fresh, creative ways: October 2-3, November 6 , and November 20. Read more here about Steve Gottlieb's photography.