St. Patrick's Day at Juniper's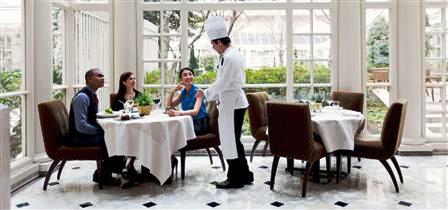 Irish Eyes will be smiling at Juniper's St. Patrick's Day Dining
All-day Irish Breakfast
Eggs any style, Grilled Tomato,
Baked Northern Beans
Boudin Noir, Amish sausage,
Grilled Toast with Liver Sausage $19
Saturday, March 16th and Sunday March 17th.
St Patties Day Brunch ...
Carving: Carved Leg of Lamb,
Mint Lamb Sauce, Cottage Pie; Angus Beef with Parsnip Puree and Peas
Potatoes Colcannon with Kale, Scallions and Irish butter
Corned Beef and Cabbage
Guinness Glazed Carrots &
unlimited Guinness Beer $56
Sunday, March 17th from 11:00 a.m. – 2:00 p.m.
In the Loggia Lounge
Irish Soda Bread with Irish Butter and Honey $3
Fried Irish Cheddar Sticks,
Cumberland Sauce $10
Luck of the Irish Burger ...
Grilled Beef and Lamb Patty, Irish Cheddar, Corned Beef and Kale Slaw $14
Saturday, March 16 and Sunday March 17th.
Music in the Loggia
Irish Music on Sunday, March 17th
5:00 p.m. – 10:00 p.m.
Fairmont Washington, D.C., Georgetown
2401 M Street, NW, 20037
Reservations 202.457.5020