St. John's plans $2 million in upgrades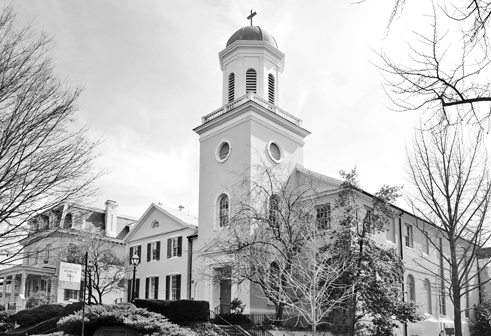 By Allison Brennan
Current Correspondent
Parishioners at St. John's Episcopal Church in Georgetown gathered on Friday to kick off a five-year fundraising effort focused on renovating the worship space in the centuries-old church.
The capital campaign aims to raise approximately $2 million to replace the almost 100-year-old pipe organ; renovate space around the pulpit and lectern; and tend to deferred maintenance projects at the 3240 O St. church.
"[The purpose] is to enhance our organ space and our liturgies so that our worship is so uplifting that people will be motivated by what happens in our church to go out … and do glorious things in the world," said the Rev. Dr. Albert Scariato.
But tackling the project of renovating such an old space, once used by Thomas Jefferson and Francis Scott Key, presents design challenges. To execute the renovation, St. John's hired Georgetown-based architecture firm Hartman Cox Architects, tasking architect Mary Kay Lanzilotta with melding the different design themes that result from more than 200 years of renovations, including the nine different types of paneling visible in the worship space. Lanzilotta will also bring in a sound system that will showcase the new pipe organ and allow Scariato to record sermons for homebound parishioners.
While Scariato said he believes strongly in improving the worship space and purchasing the new pipe organ, he is insisting that the renovations have a purpose that extends beyond the walls at St. John's. Thus $50,000 of the funds raised will go to the Bishop John T. Walker School for Boys in Anacostia, named for the first African-American bishop of the Episcopal Diocese of Washington.
"There was a significant part of the church that wanted to make sure we weren't just building for ourselves, but … for the community," said Kevin Eckstrom, vice chair of the capital campaign committee.
St. John's is well on its way to meeting its fundraising goals, according to James Klote, president of a fundraising firm hired to guide the activity.
"In a few short weeks, they have raised $1.1 million toward a $2 million goal," Klote said, attributing much of the campaign's success to the dedication of the fundraising committee. But he reserved the most praise for Scariato.
"A lot of the dedication and a lot of the loyalty that you find in churches comes from the popularity and the love and affection that a congregation has for their priest, and at St. John's I think there is no question" that's the case, Klote said.
The bulk of the renovations are expected to take place during the summer of 2012, between Memorial Day and Labor Day. During the renovations, parishioners will be able to worship in the hall next to the current worship space.
This article appears in the March 23 issue of The Georgetown Current newspaper.