Spotlight on ARTS Education: A DC Commission on the ARTS and Humanities Program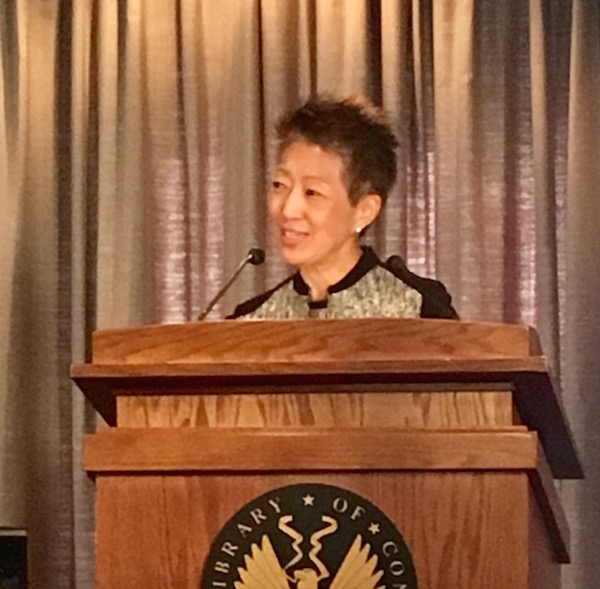 Kudos to Rhona Wolfe Friedman, a member of the DC ARTS and Humanities Commission, for organizing an amazing program at the Library of Congress. For those who don't know her Rhona is a lawyer and real estate agent in DC who has spent many years fighting for better ARTS programs and curriculum in DC schools. She is passionate and works tirelessly to ensure the ARTS get their appropriate due in our city.
This program, with a standing room only audience, was held in the Montpellier room at the Madison building of the Library of Congress. We were welcomed by Susan Vita who is head of the music division at the library. She gave an overview of what is available to the public at the library across all their collections and it is stunning how broad and deep their collection is.
Then Rhona welcomed everyone on behalf of the Commission and introduced Jane Chu who is the Chairperson of the National Endowment for the Arts. She spoke eloquently about what the arts mean to the nation and how important they are to each individual throughout our lives. We can only hope her passion translates to an administration that clearly has no appreciation of the arts.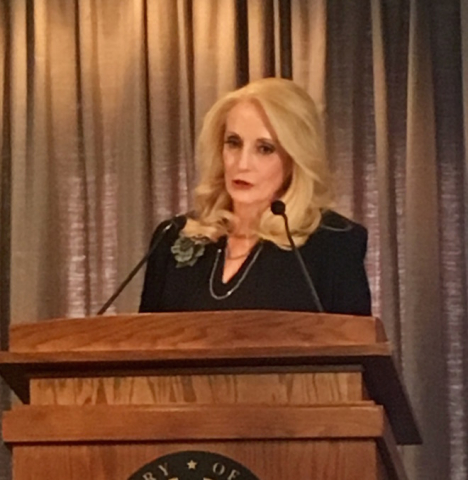 The first panel in the program titled Innovation, Access and Equity in ARTS Education was ably moderated by Mario Rossero who heads the arts education program at the Kennedy Center for the Performing Arts. Panelists included Dr. Alexander Panteyat, Johns Hopkins School of Medicine. He spoke about how research shows music is a language that can help everyone from children to adults do better in every facet of their lives. He gave a beautiful violin performance "Meditation from the Opera Thais". Christopher Morgan from Dance Place spoke of how his organization works within the community to bring people together and continues to provide programming for hundreds of young people. Nathan Diamond, DC Public Schools, spoke about the new programs currently in the schools. He talked about how youngsters are encouraged to both learn about and also participate in the arts from a very young age. He agreed the arts are a language that needs to be introduced to children at a young age. He talked about a music program that is allowing every child to not only listen to music but to participate in composing music from the earliest grades. He then introduced an amazing young man, Jose Andre Montano who is a sixth grader at the School Without Walls at Francis-Stevens. But much more he is a jazz pianist who has performed at the Kennedy Center and around the nation. His music bridges jazz, rock, blues, bossa nova, and more. He was born in Bolivia and taught himself to play at a young age. He is a prodigy and a totally charming young man. He played two pieces he composed and received a well-deserved standing ovation. The final panelist was Asha Gardner, a twenty-two year old young woman who is a rising lyricist/spoken word artist who is a third generation Washingtonian. She has performed with Alice Walker, Rachel Mckibbens and Grammy nominated Carolyn Malachi. She works with the Split the Rock program in DC schools and shared how she succeeded in school through the arts. She is a shining example of a DC school graduate who now comes back to work in the schools helping other students to succeed.
At the conclusion of the first panel Library of Congress staff shared information on artifacts at the library and shared materials they have for teachers to use which led into the second panel Creativity and Inspiration Using Primary Source Materials in Arts Education Programs. This part of the program was moderated by Lee Ann Potter, Library of Congress and panelists included Erin Elman, University of the Arts; Johanna Siebert, National Association for Music Education; Katherine Tuchman, Library of Congress; Sasha Dowdy, Library of Congress; and Erin Durham. University of Maryland –musical story time performance.
*/
Once again congratulations to Rhona Wolfe Friedman and the Arts and Humanities Commission for putting on such a great program. It was clear everyone who attended walked away with something that would help them as they worked with students and members of the community in every possible area of the ARTS.