Spirit of '45 Honors WWII Generation on Memorial Day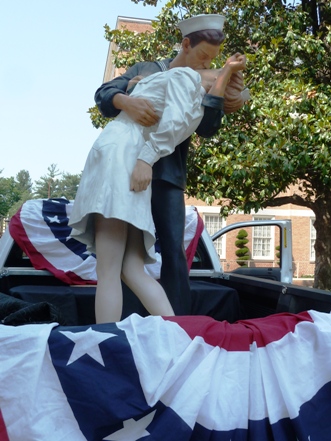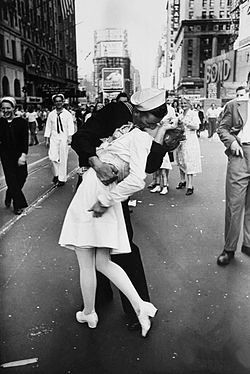 A fitting stop for remembering America's World War II generation, it was the Joseph Gawler's Sons Funeral Home in Northwest Washington where the kissing couple in a flag-draped pick-up truck made an appearance Sunday.
A traveling billboard for Keep the Spirit of '45 Alive!, the life-size sculpture evokes that iconic V-J Day in Times Square photograph by Alfred Eisenstaedt portraying an American sailor kissing a woman on Victory over Japan Day (V-J Day) in Times Square in New York City on August 14, 1945.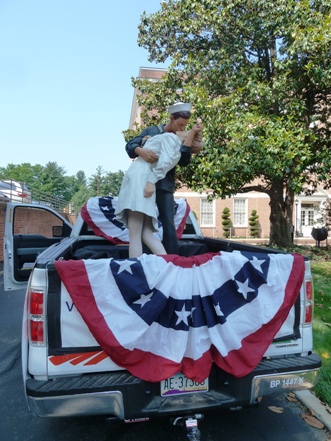 Each year on Memorial Day, the organization raises public awareness about National Spirit of '45 Day by inviting youth from across America to come to Washington, D.C. to participate in an annual Memorial Day of Service honoring those who gave their lives in defense of freedom during World War II. Check out the 2012 schedule here.
The group is collecting service photos to be included in the National Wall of Honor at the National WWII Memorial in Washington, D.C. on August 12, 2012 (commemorated on the second Sunday in August).
Keep the Spirit of '45 Alive! is a non-profit, non-partisan initiative preserving the legacy of service of the men and women of the WWII generation by helping to establish an annual national day of remembrance in August.