Special election could decide tax hike, budget vote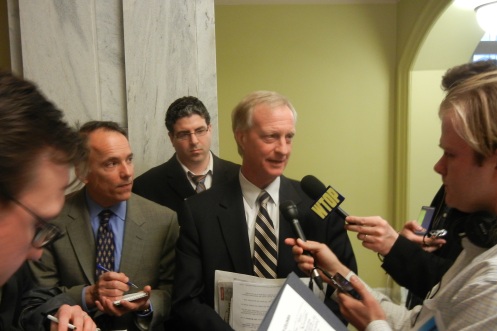 The victor in this month's special election for At-large Councilmember could be the deciding vote on a contentious budget plan by Mayor Vincent Gray that is drawing starkly mixed reviews from Councilmembers.
With Council Chairman Kwame Brown declaring his opposition to proposed income taxes hikes in the Mayor's budget along with finance committee chair Councilmember Jack Evans—and a final vote on the budget not expected until May—the new At-large Councilmember elected April 26 could provide the deciding vote if certified in time.
Where do the candidates stand? Councilmember Sekou Biddle in February said he favored potential tax increases, but then backtracked immediately, saying, "I do not support a tax hike on businesses, individuals or households making above $125,000."
At a forum hosted by The Georgetown Dish and The Current Newspapers the same month, Josh Lopez said he supports tax increases on those earning above $200,000. Candidate Vincent Orange said he unequivocally opposes any tax increases. Republican Patrick Mara has voiced similar opposition. Bryan Weaver, meanwhile, has advocated for three new tax brackets -- for residents making more than $130,000, $250,000 and $1.5 million -- and discussing corporate taxes that D.C. does not currently collect.
When asked if he would support the income tax increase as Gray proposed it, Brown responded with an unequivocal "no." Would he support some other tax increase? "Very, very, very unlikely," he told the Washington Examiner.
Earlier, Evans indicated that in his mind, the Mayor's budget is a non-starter. "In its current form, there is absolutely no way that I will support this budget," said Evans in a statement. "The fact that we continue to rely on tax increases and gimmicks while failing to address our broader fiscal issues is nothing short of amazing to me."
But not all Councilmembers are opposed to new taxes. In December, Councilmember Tommy Wells introduced legislation to raise income taxes on those earning $75,000 or more, with a full one-percent increase on those who earn over $500,000. In a blogpost on Greater Greater Washington, Wells wrote, "My wife and I have not been asked to pay one more dime to help balance the District's budget—not now, and not even in the last four years."
The Council rejected Wells' proposal and another by Councilmembers Michael Brown (At-large) and Jim Graham (Ward 1) to raise income taxes on residents who make more than $200,000. Councilmembers Marion Barry and Harry Thomas, in addition to Wells, Michael Brown, and Graham, voted in favor, while the other Councilmembers, including then-Chairman Gray, opposed the hikes.