Soup for the Soul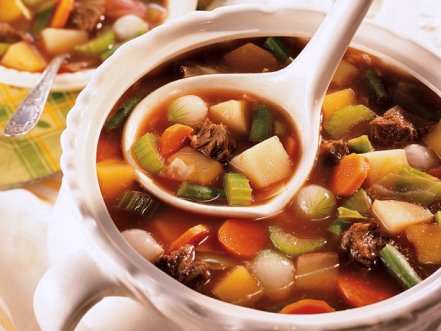 Katherine Tallmadge, the queen of soup recipes, as illustrated in her latest post, was my inspiration for trying a soup of my own. After all, what is easier and healthier than having a big pot of vegetable soup available all week for snacking? Of course, if you know me, you know I don't cook… so this project involved the help of my husband.
We started out with a trip to the Dupont Circle Farmer's Market, which I love all year round, but especially in the winter, a time during which I discover all kinds of vegetables I never knew existed. Following this Sunday morning trip, I watched as my husband started by making beef stock, then soup. While soup always seemed so easy to make, I realized it is one of those recipes that as I like to describe it, requires "cooking before you start cooking." But the result is absolutely delicious, and the house still smells like healthy vegetables!
For the beef stock, we used leftover bones from an amazing roast we bought at the Dupont Circle Farmers' Market last fall (another thing that appeals to me about this recipe is using everything we have in the house!). We boiled the bones with carrots, onions, celery, parsley, 15 black pepper corns, 1 tsp ground thyme and 2 bay leaves for about 3.5 hours.
Beef and Vegetable Soup:
1 cup chopped onions
1 cup chopped celery
1/2 cup chopped bell pepper
2 tbs oil (or bacon drippings, in our case, which I don't think Katherine would necessarily approve of!)
1/2 cup white wine
1 tsp black pepper
1/2 tsp white pepper
1/2 tsp red pepper
11/2 cup cubed carrots
1 1/2 cup cubed potatoes
1 cup fine cubed white turnips
1 cup baby lima beans (blanched and soaked)
8 oz of fillet from Stachowski's Deli (cooked)
Salt to taste
First saute the onions, celery and bell pepper in the oil until transparent. Add the meat and continue to sautee for 5 minutes. Deglaze with white wine. Add to the hot stock then add the other vegetables. Add the seasonings and salt. Cook for about 50 minutes or until the beans are soft. Skim to remove any excess fat. Serve hot, then put the rest in the fridge for the cold winter nights.