Sometimes I hate to admit when my mother is right.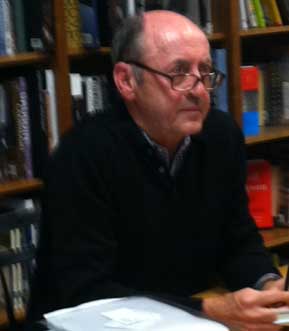 Last year, she called from the train on her way home from New York. She'd just seen "Red," the play about the artist Mark Rothko. "I don't care what you have to do to get there, but you simply must see this play," she told me. "It will knock your socks off."
She was right. It did.
Recently, she called to remind me about a poetry reading at Politics and Prose. "You will love Billy Collins. He is funny, charming, and he loves jazz." Aside from being an artist, art-lover, and poetry aficionado, my mother LOVES jazz.
"Sure, sure. I'll try to make it," I told her. You know when you say yes to things before life gets in the way. You forget there are kids to pick up, dogs to walk, meals to cook, beds to make, stories to write, bills to pay, meltdowns in the making. Some things, like attending a poetry reading, take a slight effort. It's a detour from our daily routine.
When the rain started and my former husband called to say one of our girls was having a meltdown over a lost lacrosse stick, I almost pulled the plug on the poetry reading. But my mother's voice loomed over me. And when the black Suburban behind me honked incessantly because the weathered Honda Accord in front of us was 'blocking the box" on Connecticut Avenue, I wanted to call Mom and tell her I just couldn't make the poetry reading. I couldn't deal with rain, rude drivers, and rush hour traffic.
But as I entered Politics and Prose, what struck me first was his voice. With all the people packed in the bookstore, I couldn't see Collins at first. But his deep voice and deadpan delivery drew me in. His poetry was funny, poignant, and accessible. I never thought I'd laugh so much at a poetry reading.
Feedback
The woman who wrote from Phoenix
after my reading there
to tell me they were still talking about it
just wrote again
to tell me they had stopped.
Aside from reading his poems that night, Collins talked about the writing process. He said he enjoys "moving a poem to a destination totally unseen."
I thought about what that meant--whether in writing or life. Do any us know where we're going? We might have plans, strategies, ideas. But we really don't know where our lives will take us.
The one thing I do know is that nothing happens without an effort. I really didn't feel like attending the poetry reading. Frankly, what I felt like doing was staying home and watching "Dancing with the Stars." But afterward, I was glad I'd made the effort. I left Politics and Prose that night feeling energized and uplifted. And I called my mother, giving her some positive feedback.
"Didn't I tell you?" Mom said.
"You were right, Mom." Then she proceeded to quote a line from a favorite poet, Theodore Roethke: "I learn by going where I have to go."
We all do.