So much for diplomacy...bring on the security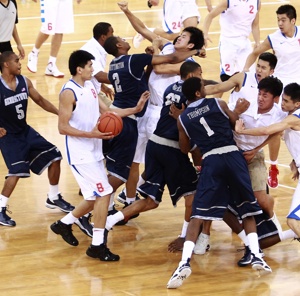 After the much-publicized wild brawl between the Georgetown Hoyas men's basketball team and a Chinese team, one can expect beefed-up security for the remainder of the team's 11-day trip in Asia.
Georgetown's Head Coach John Thompson III and two of the team's student-athletes met with members of the Bayi Rockets on Friday morning following the now-famous exhibition game on Thursday. Both teams presented an autographed ball as a gift.
The coaches expressed interest in future exchanges, with Thompson inviting Chinese youth players to the Hoya summer camp next year.
The very cordial meeting was attended by Thompson, Bayi Head Coach Adejiang, Georgetown senior Jason Clark, Georgetown junior Hollis Thompson, and Rockets players Chen Yu and Lehei De.
Next up is competition in the Nike Sports Festival in Shanghai this weekend.
As the onsite national media reported it, in the fourth quarter of the tight game against one of China's best teams, Georgetown Hoyas' Thompson III pulled the team off the court after benches cleared and Chinese fans tossed plastic bottles at the Hoya players and coaches. The Chinese also threw chairs onto the court. It was Twitter nirvana for reporters and fans who witnessed the fight.
The Beijing mêlée broke out after a Georgetown guard was trapped in a press and pushed to the floor. Chinese players furiously kicked a Hoya player as he struggled to get up.
A master of protocol, Thompson, quickly issued the following statement following the ugly brawl. A copy was e-mailed to The Georgetown Dish.
"Tonight, two great teams played a very competitive game that unfortunately ended after heated exchanges with both teams. We sincerely regret that this situation occurred. We remain grateful for the opportunity our student-athletes are having to engage in a sport they love here in China, while strengthening their understanding of a nation we respect and admire at Georgetown University."
Uh-huh.
"Crazy evening," a Georgetown University sports staffer on the scene told The Dish.
While on his trip to China for economic talks, Vice President Biden attended a game the night before the ruckus game was played.
Also in China for exhibition games is Duke's basketball team – a series which seems to be going peacefully and uneventfully.