So Many Slices of Global Culture Under One Roof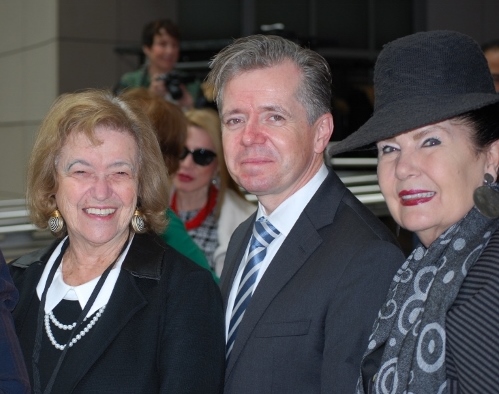 Mayor Muriel Bowser officially proclaimed Winternational Day as more than 50 embassies showed off their cultures with food, handcrafts and beverages at the Ronald Reagan Building and World Trade Center on Thursday.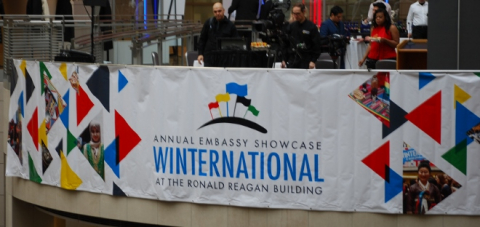 The ground floor was jam-packed with exhibits and people speaking a host of languages.
Over 3,500 guests – the event was free to the public – crowded into the huge space to buy, chat and explore the individual tables laden with goods, mostly handmade from countries across the globe.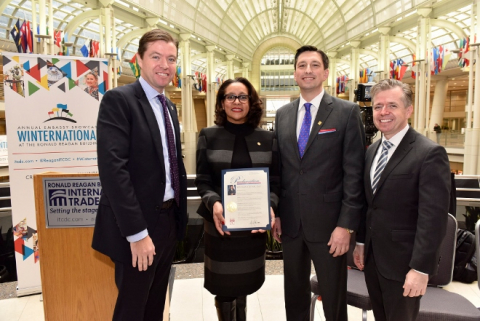 Scarves over there. Necklaces that way. Candles to the right. Jewelry right, left & center. Sculptures in the mix. Cuisine everywhere.
In quoting the proclamation, Lauren C. Vaughan, secretary of the District of Colombia, said: "…the World Trade Center serves as a platform to build connections, foster diplomacy, grow businesses and create a more prosperous US and Global Economy."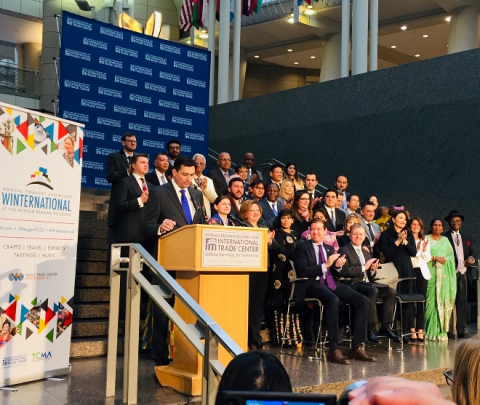 Also hobnobbing to build international bridges at a special ambassadors' reception upstairs were Sean P. Lawler, Chief of Protocol at the US State Department and Patricia Elwood, DC Protocol and International Affairs Officer.
"Only at the Winternational can you experience the heritage and traditions of all these countries under one roof," observed John P. Drew president and CEO of presenting sponsor Trade Center Management Associates. TCMA is a Drew Company.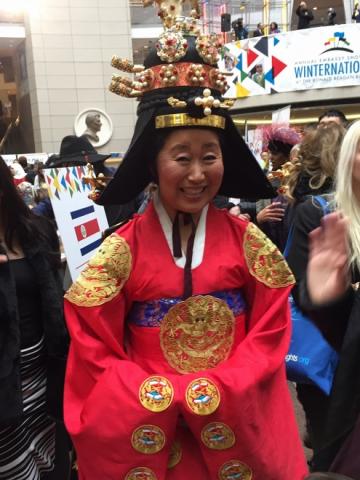 Participating embassies and nation groups included Afghanistan, African Union Mission, Armenia, Australia, Bahamas, Bahrain, Bangladesh, Bolivia, Botswana, Brazil, Bulgaria, Cameroon, Costa Rica, Egypt, El Salvador, European Union Delegation, Fiji, Ghana, Guatemala, Guyana, Haiti, Indonesia, Kenya, Kosovo, Latvia, Lesotho, Lithuania, Malawi, Malaysia, Moldova, Mongolia, Morocco, Nicaragua, Nigeria, Oman, Pakistan, Panama, Paraguay, Peru, Philippines, Qatar, Russia, Saint Kitts and Nevis, Saint Lucia, Saudi Arabia, Singapore, South Africa, Sri Lanka, Tajikistan, Trinidad and Tobago, Uganda, Uzbekistan and Vietnam.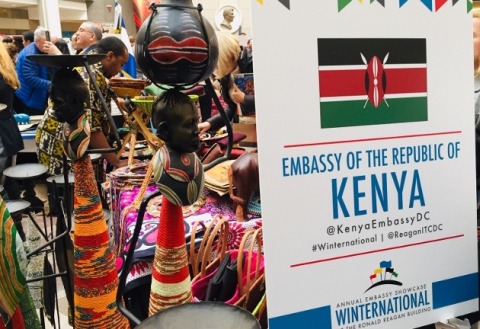 Helping to coordinate the 7th annual embassy showcase were Jan DuPlain, embassy liaison at the World Trade Center, and Golnaz Feiz, senior sales manager for sales and event planning, TCMA.