A Snowman! Really?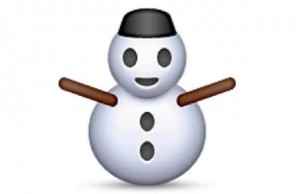 No small irony that SwiftKey has determined the emoji that most represents Washington, DC is a snowman. Anyone who's spent a winter in this city knows we close schools when it rains hard. We're NOT known for the way we handle even the forecast of the white stuff.
But according to SwiftKey's US Emoji Report, after analyzing more than a billion emojis to learn how people in each US state use them, the one used most frequently here is the Snowman. Perhaps we're talking about the Abominable Snowman,
Not surprising, California ranked high for taxi emoji (where Uber and Lyft were founded, Hawaii for surfing and New York, Statue of Liberty.
For a national overview, click on their interactive map here.
The report follows their first Emoji Report, which analyzed over 1.5 billion emoji across 16 languages and showed how emojis are used all over the world, as well as Part II, which analyzed 15 additional languages' emoji use (spoiler: Australia is naughty!).