Snow Day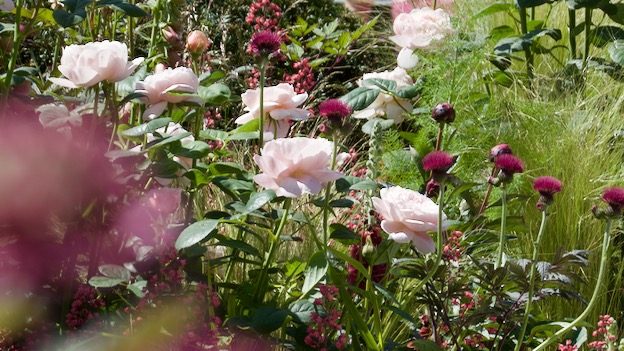 The two feet of snow Winter Storm Jonas has dumped on our Nation's Capital has not only covered up walks, roads, and cars, but conceals a multitude of mid-winter garden sins as well. "Sins" is probably not the right word, but beneath the snow lie autumn leaves that fell after the last fall-clean up, winter-burned ornamental kale, and the crispy dead new growth of perennials and bulbs that, duped by unusually warm December weather, sprouted too early only to freeze in mid-January.
Beautiful as the snow cover may be (beautiful, that is, depending on how much shoveling you have had to do), I am snow blind. Several days of white on sparkling white and a pile of new plant catalogues have left me day dreaming about colorful plant combinations. Instead of catching up on my too-big pile of work over the past snowy weekend, I was on my computer feasting my color-starved eyes on some of my favorite garden photos. It was an absorbing activity that unquestionably cut down on my productivity, but what good are snow days if you can't goof off?
I have thousands of garden photos, but I knew where to start: I went straight for my photos of a display garden at the 2014 Chelsea Garden Show, the colors and textures of which especially stand out in my memory. Though the garden featured interesting water features and various structures, it was its plantings that have stayed with me. Its designers artfully created a color palate that was enhanced by the unusual combination of woodland and garden plants and textures. Starting with David Austin roses, (deep crimson Rosa Darcy Bussell, ivory Rosa Winchester Cathedral, and Rosa Queen of Sweden, a pale pink repeat bloomer), the garden included dark pink peonies, slender stems lined with tiny sunset-colored coral bells (heuchera), and white foxgloves punctuated by the occasional deep navy purple columbine (Aquilegia vulgaris "Black Barlow"). Slightly spiky masterworts (astrantias), chocolate-colored cosmos, and tall white and pink mulleins added delicate height but the detail that made this planting a show stopper was the unexpected use of soft, silky bright green grasses (Deschampsia cespitosa 'Goldschleier' and Pennisetum orientale 'Karley Rose') which bound the plants together into a coherent harmony. Just gorgeous.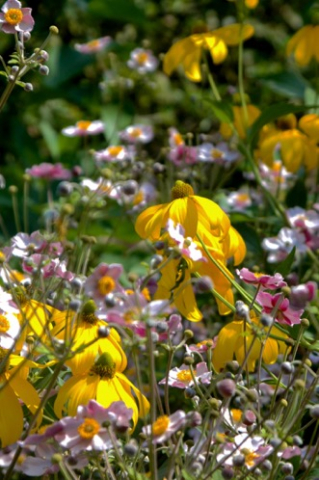 Next, I pulled up photos of a garden I visited late last summer to contemplate a more surprising plant combination: A mass of bright lemon-yellow coneflower (Rudbeckia nitida) and mauve-pink Japanese anemones. I found the pairing surprising because the only time I have ever put mauve and yellow together in my garden it was an unpleasant shock. I had confidently planted winter aconite (Eranthis hyemalis) tubers among a group of Lenten roses (Helleborus orientalis). I'd never grown winter aconite before, but knew it bloomed early, naturalized easily, and was low growing. I had also read that its buttercup-like flowers were a stop-sign yellow sure to cheer up bleak late winter days. Unfortunately, the hellebores I planted at the same time were supposed to be light pink but turned out to be a dark muddy mauve that begged for pink chinodoxas or pure white snowdrops. The hellebores and winter aconites bloomed at the precisely the same time late the following February, clashing violently in a landscape with little else to distract the eye. While I'm not going to rush out and plant rudebekia among my anemones, the late summer coneflower/anemone combination, was much prettier than I would have expected. I am still puzzling over this. Perhaps it was the orange centers of the anemones that made the colors more compatible or was it the quality of August sunlight?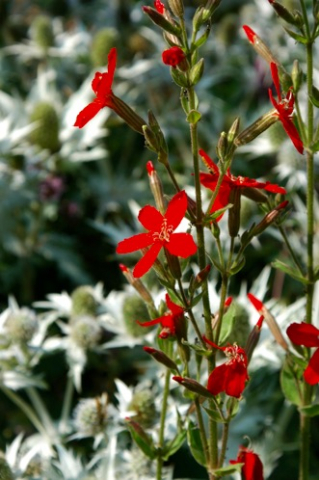 A less shocking color combination is red and silver. One often sees red geraniums planted with silver-leafed plants like dusty miller but silver and red perennial combinations seem less common. Piet Oudolf, the Dutch plantsman who designed the plantings in both the Highline and the Battery in Manhattan, has combined silver sea holly (Eryngium maritimum) with red lobelia (Lobelia x speciosa) in his garden in Hummelo, NL. It is a wonderful sight, but what is really extraordinary is that sea holly, a prickly, spiny plant native to the British Isles, is a fairly drought tolerant perennial that prefers sandy well-drained soil. Fussy lobelia, on the hand, prefers moist, peaty soils and tolerates part shade. Obviously coupling sea side and woodland plants "works", but perhaps only in the garden of someone who is as knowledgeable and talented as Piet Oudolf.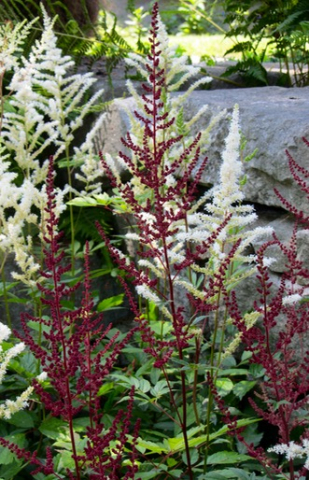 For a similar effect, I think I'd plant white and dark red astilbes together like a planting I saw in a seaside garden in Camden, Maine. The two were placed in front of a classic New England dry stonewall, its patina achieved by years of natural weathering augmented with a mottled coat of lichen providing the versimilitude of silver. Stonewalls are a fabulous background for flowers and it is difficult to think of a color combination that would fail to be enhanced by one. While Gertrude Jekyll was right to believe a yew hedge, with its uniformly dark green needles, was a perfect backdrop for a perennial border, a good old-fashioned stonewall can be just as effective.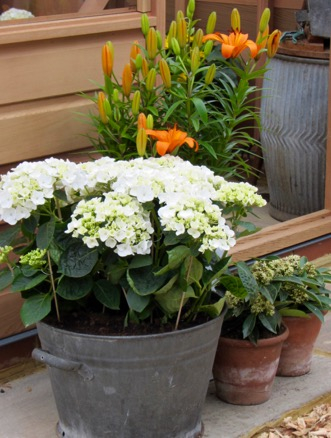 Similarly, stone-gray pots enhance the colors of flowers. Although some can be too bright (a coating of buttermilk or plain yogurt can tone them down), the subdued grays of metal buckets and tubs are terrific. I was reminded of this when I came across an arrangement of orange Asiatic lilies and white hydrangeas placed side-by-side in gray pots in another Chelsea display garden. So simple and so appealing. I associate orange strongly with early spring and fall, and consequently find it tricky to work with in summer. It never fails, however, to look fabulous opposite white, and the combination of creamy white Annabelle hydrangeas and ordinary orange day lilies, which always reminds me of Creamsicles, is absolutely delicious. It's lovely to imagine white and orange pansies growing in my gray urns this spring. Just another 6-8 weeks or so of winter and they'll even be available.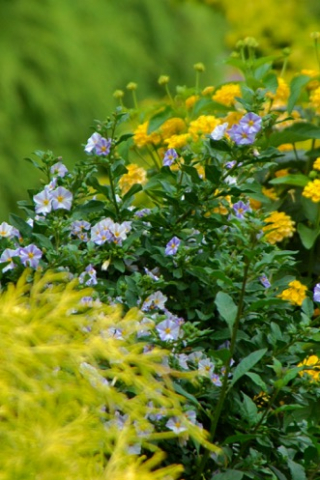 Of course, a more classic color combination is yellow and blue. Last summer I fell in love with purple nightshade. Their star-shaped flowers are really more light blue than purple and have yellow centers, but it's important to know that the fruits are toxic. Purple nightshade stands up brilliantly to cadmium yellow lantana. Both are reasonably drought tolerant as long as they are infrequently but well soaked, so can comfortably share a pot or place in a garden. The two look amazing beside yellow tipped junipers.
Though the snow and ice still linger, I can no longer play hooky. It's time to close the photo files, put the plant catalogues away, and put my nose back to the grindstone, but I am still daydreaming. Let's hope there are no more snow days and that Puxatony Phil doesn't see his shadow next week.