Smokey pays a visit to Duke Ellington School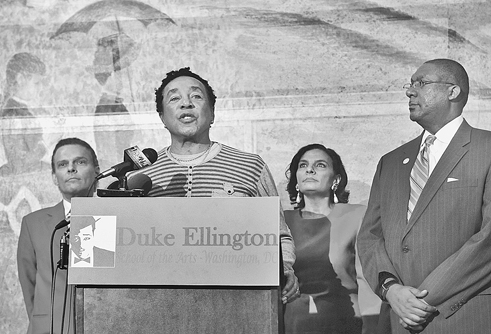 By Katie Pearce Current Staff Writer
Smokey Robinson, visiting the Duke Ellington School of the Arts last week, said one of his "greatest joys" in life is hearing other people sing his songs.
So Friday must have been a joyful day for Robinson, as he stood in the wings of Ellington's main stage watching high-schoolers perform a couple Motown hits he penned in the '60s: "Ain't That Peculiar" and "Don't Mess With Bill."
Senior India Reynolds, a vocal music major, commandeered the stage as four of her classmates provided doo-wop-style backup, dancing and snapping around her. Behind the singers was a row of instrumentalists — guitars, keyboard, drums and horns —who were more subdued, but still tapping their toes.
Later an Ellington alum joined the crew: singer Sylver Logan Sharp of the class of '85, standing out with her neon-red hair. With the audience pitching in lyrics, the full group put on a slow version of another Robinson hit, "Since I Left My Baby."
This serenade of Robinson — attended by Ellington students, staff and a handful of members of the press — preceded a benefit concert the following night at the Kennedy Center. As this year's "Performance Series of Legends" headliner for Ellington, Robinson sold out the show.
Speaking before the press on Friday at the public arts-magnet school, the 72-year-old R&B singer, songwriter and record producer called Ellington "a great example" of the type of arts curriculum he has been advocating in recent years.
Growing up in Detroit, Robinson said, he was surrounded by "gangsters" but kept his focus by pursuing a love of music.
"I started singing when I first opened my mouth, according to my mom," he said. In school, he participated in choirs and glee clubs and played alto sax.
"There are no new artists," Robinson said. "They've all been doing it since they were 6."
With his group The Miracles, Robinson scored his first hit — and the Motown record company's first No. 1 — with "Shop Around" in 1960. He went on to write and produce a slew of hit tracks for other artists, acting as The Temptations' primary songwriter and becoming Motown's vice president.
Introducing the artist to students Friday, Ellington principal Rory Pullens told them: "All of you, at some point in time, I don't care how young you are, have heard Smokey Robinson."
When Robinson spoke directly to students at the Burleith school, he encouraged them to honor their artistic passions — but he also downplayed their show-business aspirations.
"Show business may be in mind as your No. 1 priority, but you gotta switch that over, make it a second priority," he said.
He spoke of the fickle nature of fame. "I don't trip on 'Smokey Robinson,'" he said. "If I think I'm hot stuff, all I gotta do is wait 'til next week, when Usher comes around."
Robinson said he was a good student himself, and logged a few months in college before his music career took off. "I loved learning," he said, adding: "And that's where all the girls were gonna be."
Before the music performance, students from Ellington's digital arts department presented Robinson with a poster on which words formed the shape of the artist's face; junior Lauryn Nesbitt later silenced the room in reading those words, a poem, aloud to Robinson.
The Legends concert series, which the Ellington school launched in 2008, has raised more than $2 million for its arts curriculum. The high school started out by bringing in its own alums — comedian Dave Chapelle, opera singer Denyce Graves — before reaching out to other big names like Stevie Wonder and, last year, Earth, Wind and Fire.
Principal Pullens described the concerts as a critical supplemental resource for the public school, whose needs far exceed "what [D.C. Public Schools] is able to provide a budget for."
He pointed to the students on stage Friday as an example of the type of work ethic the school encourages. The night before, the group had performed a show at the Atlas Performing Arts Center; the students were slated to return to the H Street NE theater that night. Then on Saturday, they would have to get up early to head to the Kennedy Center to prep for their show with Robinson.
"If you're going to be an artist in this business," Pullens said, "you've got to be serious about your craft."
This article appears in the March 7 issue of The Georgetown Current newspaper.