Smith Point Seeks Switch to Tavern License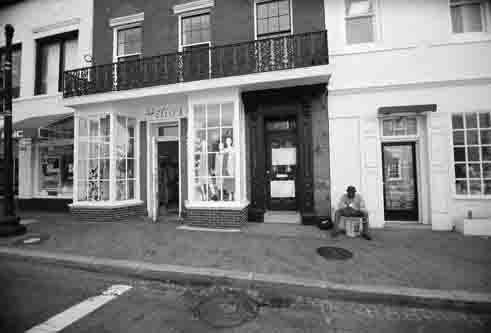 By Katie PearceCurrent Staff Writer
Georgetown bar Smith Point is first in line for a coveted tavern license that would offer some flexibility with alcohol sales.It's one of only six tavern-class licenses allowed within the Georgetown Historic District, and the second of its kind to become available within the past two decades.
A D.C. Alcoholic Beverage Control Board hearing on the proposed change for Smith Point is scheduled to take place June 30; beforehand, the Georgetown advisory neighborhood commission is set to weigh in June 2.
The new class of license would release Smith Point, at 1338 Wisconsin Ave., from the requirement of regularly submitting proof that 45 percent of its sales come from food (as opposed to alcohol). Just last month, the alcohol board fined Smith Point $2,000 for failing to document some of these figures satisfactorily for a recent audit.
Representatives of Georgetown Events, the larger company that owns Smith Point (along with some other well-known D.C. spots, including Surfside, Jetties and the Bullpen at Nationals Park), weren't available for comment. According to Smith Point's website, restaurateur and Washington native Bo Blair started the bar in 2000 as "a gathering spot of alumni of prominent high schools and colleges in the East and South."
The new tavern license in Georgetown became free because El Centro, at 1218 Wisconsin Ave., agreed with neighborhood parties to switch to a restaurant license, according to Bill Hager of the D.C. Alcoholic Beverage Regulation Administration.
When word spread early last month that the license was available "first come, first approved," potential applicants reportedly camped out at the Reeves Center for days to be first in line.
Blair told The Washington Post that the change would relieve "the pressure of having to meet the food minimum" of the restaurant-class license and "make business easier," but that Smith Point wouldn't change otherwise.
Though many owners gripe about the paperwork required to report food sales under a restaurant license, alcohol attorney Brian Molloy said the real benefit of making the change to a tavern is increased freedom with business decisions. "You don't have to worry about following the numbers," said Molloy, who works for the Mallios & O'Brien firm and runs a blog on D.C. liquor license issues.
"They'd like the freedom to pursue any marketing schemes they want," without worrying about whether "customers are eating food or just buying drinks and leaving," Molloy said.
Second in line for the Georgetown tavern license is George, the bar and restaurant at 3251 Prospect St. — which would start the approval process if Smith Point is denied, according to Hager.
Until recently, Georgetown hadn't seen any tavern licenses freed up in about 20 years. Gypsy Sally's, the live music venue at 3401 K St., managed to snag the one that became available last fall. The remaining Georgetown tavern licenses are held by Rhino Bar, Chadwick's, Modern and Blue Gin — the last of which is closed, with its license in safekeeping.
The change for Smith Point would require an amendment to its existing settlement agreement with the advisory neighborhood commission and the Citizens Association of Georgetown, which covers various operating conditions. Any protest petitions would need to be filed with the alcohol agency by June 16.
Karen Cruse, co-chair of the citizens association's alcohol committee, said she doesn't expect that neighbors will protest the amendment. "We anticipate there won't be any significant change in [Smith Point's] nature because of the settlement agreement that's already in place," she said.
Smith Point last amended that agreement in 2011 to allow for two new outdoor "summer garden areas." Cruse recalled some initial controversy over that proposal due to noise concerns from neighbors, including a nearby hotel, but she said those issues were worked out.
In addition to the tavern license, the alcohol agency announced last month that six applicants are vying for three new restaurant licenses available within Georgetown's "moratorium zone." Sixty-eight total restaurant licenses are allowed within that zone, which extends approximately 1,800 feet in all directions from the intersection of Wisconsin Avenue and N Street.
Cruse suggested that the restrictiveness of the moratorium is often overblown. She noted that it doesn't affect several key Georgetown spots, including Washington Harbour. "There are many places where you can just go in and pay the fees and get a license," she said.
Both Cruse and Hager also said that the alcohol agency is in the process of assessing liquor licenses throughout the city that remain in "safekeeping." Licenses locked up in that status (there are about 10 in Georgetown, Cruse estimated) could potentially be freed to allow for new bars and restaurants.
"At the end of the day, the [alcohol] board does not want any of these licenses sitting around for a long time without being used, especially in a moratorium zone," said Hager. "That's a sizable chunk and can really affect the overall composition of the neighborhood."
This article appears in the May 28 issue of The Georgetown Current newspaper.