Slated Georgetown Project Struggling to Find Retail Tenants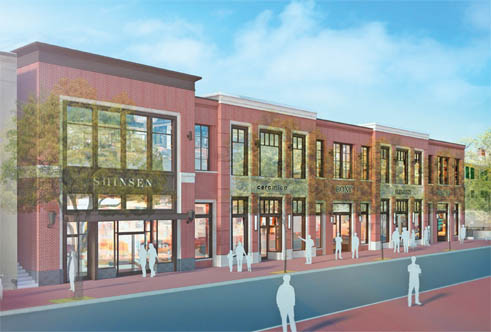 By Brady HoltCurrent Staff Writer
A planned Georgetown commercial building that won zoning and design approval two years ago continues to remain in limbo as no tenants have yet signed a lease for the project.
Currently the site of a surface parking lot, the property at 3220 Prospect St. NW is envisioned as two stories with 28,000 square feet of retail, restaurant and office space above an underground parking garage. Those plans won approval in 2015 from the Board of Zoning Adjustment and the Old Georgetown Board.
But the development hasn't yet received financing, because lenders want 65 percent of the retail space pre-leased before providing construction loans, according to a recent zoning filing. The project has thus far fallen short of that mark — despite extensive work with nearly 100 prospective tenants, none has officially signed on.
The zoning board granted a two-year extension of its approval for the project on May 3 with minimal discussion. But developer McCaffery Interests' written zoning filing spells out the firm's interactions with a host of prospective tenants. Several businesses are in lease negotiations for the site — multiple restaurants, an upscale hardware store and a women's clothing store — and numerous others have expressed interest.
However, the filing was also candid about why many other businesses weren't interested. Some were reluctant to add locations. Others were more attracted to other destinations, frequently the new CityCenterDC development downtown; Georgetown's own Cady's Alley and M Street; and suburban Virginia.
"Tenant is not interested in Georgetown," reads the entry for a fast-casual restaurant. "Feels there is a lack of daytime traffic." A French accessories shop was "doing deal in City Center. Georgetown not correct fit." A beachwear shop: "Tenant would like to know who anchor tenant is before responding." A women's clothing store: "Not comfortable with the sales projections in Georgetown." A computer company: "Very cautious on future expansion plans."
Despite the issues, McCaffery senior partner Juan Cameron told The Current his team remains optimistic about the project. "It's just the overall malaise of retail throughout this country, throughout the world — nothing to do with this area," Cameron said. "We believe it's still a vibrant area."
Jamie Scott, economic development manager for the Georgetown Business Improvement District, conceded that Georgetown's customer base is increasingly distributed among multiple upscale locations, and that online shopping has also taken its toll on some brick-and-mortar businesses.
"At the same time we see that the Georgetown retail market is still fundamentally strong," Scott said. Citing e-commerce giant Amazon's recently announced bookstore slated to open near Georgetown's former Barnes & Noble, he told The Current that "while there are certainly other neighborhoods where retailers are also considering, there are a lot of brands that still want to be in Georgetown."
Scott said that without knowing the lease rates and building layout of the 3220 Prospect project, it was hard to be certain why retailers have been hesitant. But even beyond that, Scott said, he wasn't concerned by the tenants' selectivity. "There are some businesses where Georgetown isn't as suitable for their business model, but I don't think that's an indictment on Georgetown in general," Scott said.
Scott also pointed to expanded commercial activity on Grace Street NW as an indication that businesses can thrive outside of Georgetown's busiest commercial corridors. Meanwhile, the area boasts a large number of residents, students, tourists and office workers, he added. "I think the market can sustain and absorb more square footage of retail space," Scott said.
The Prospect Street project — formerly dubbed Prospect Place and not yet renamed — will ideally include three to four retail/restaurant tenants of varying sizes in addition to some second-floor office tenants, Cameron said. Underground, 96 parking spaces would replace about 84 spaces on the existing lot.
The project went through a lengthy Old Georgetown Board design review to ensure the building would fit in with its historic surroundings, and also needed Board of Zoning Adjustment approval to construct commercial space with no loading dock. A condition of that review states that the project can't include a restaurant or other tenant with intensive loading needs in the first three years, but Cameron believes the project team could work with the D.C. Department of Transportation to provide an acceptable loading plan.
Asked whether the project team was considering residential space in the project, Cameron replied: "We're looking at everything right now."
The property is currently generating comfortable revenue from the parking lot, and the owners — Georgetown's long-established Weaver family — don't want to redevelop it prematurely, according to Cameron. "We're working diligently, talking to a lot of different players and the family that owns the land to make sure we put together the best lineup that we can," said Cameron. "They're looking at this as a legacy asset. ... The Weavers have been in Georgetown for over 200 years, and they want to be there for another 200 years."
This article appears in the May 17 issue of The Georgetown Current newspaper.