The skinny on the narrowest home on The Georgetown House Tour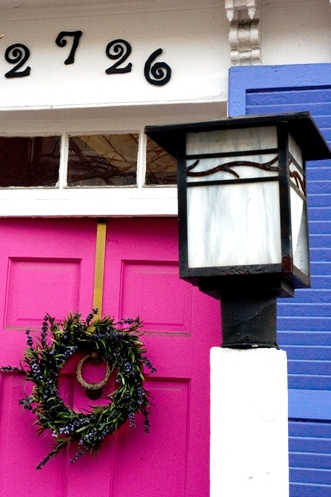 Considered to be the narrowest in Georgetown (and some believe, in Washington,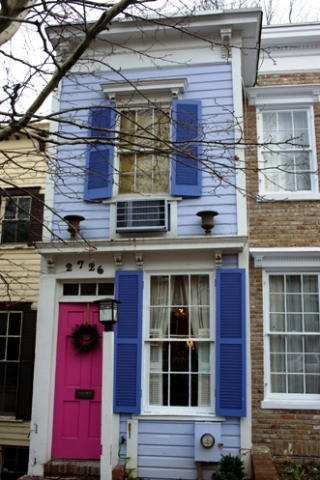 D.C.) this charming house at 2726 P Street measures just nine feet on the exterior, and inside 8.1 feet wide according to historical records. While other Georgetown homeowners have claimed to own the narrowest houses, most tend to measure some 10 feet in width. Often they look so narrow because they are situated between larger townhouses, unlike this colorful and most narrow house.
The house was built between 1872 and 1876 by a bricklayer, Peter Vessels, who constructed the house himself. It was a wood frame addition to his brick house, built earlier next door at 2728 P Street. (Notice the one-foot overhang at 2726 of the cornice of 2728, offering further proof that this house was an addition.) Vessels stayed true to his trade and built the original structure of brick. The 1876-1877 tax assessment lists a "$600 brick dwelling and frame addition," suggesting that the two were originally joined when Vessels built them. The wooden trim, notably the bracketed cornices, mark the house as Italianate in design.
This unique house had the same owner from 1974 to 2004. It was purchased in 1974 for $42,700, in 2004 for $431,500, and in 2009, by the current owner, John P. West, for considerably more. This demonstrates how Georgetown real estate has grown substantially in value in the past 30-40 years.
The arrangement of the house, like many in Georgetown, has the kitchen and dining space on the lower level, with access to a small garden.
Eugene L. Shiro is host of this house on the tour, April 30. For tickets and additional information, contact Georgetown House Tour or call 202.338.1796