Skin Care is Everything, but a Little Makeup Can't Hurt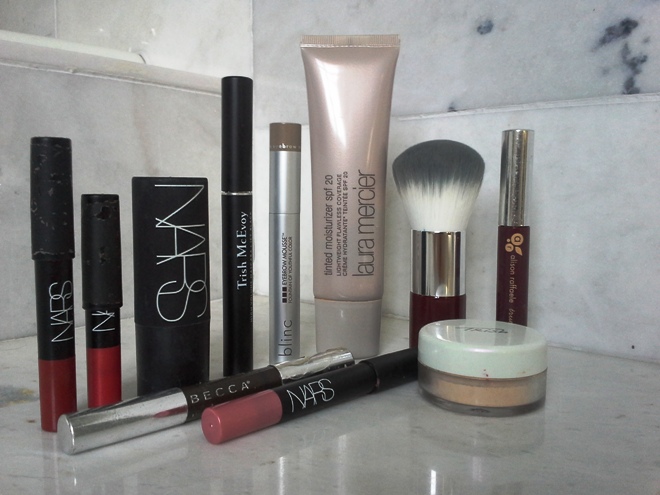 In the last month or so, I have been on TV and I have taped some videos for our Youtube channel, which means I have probably worn more makeup than in the previous 11 months combined. I am a makeup minimalist – to me, makeup is for color. Being in skin care, I believe in taking great care of my skin, and letting it show through; I think the term tinted moisturizer is a bit of an oxymoron; and I feel claustrophobic with foundation, concealer, and powder on. I have to admit, however, that the right makeup actually feels right, and can make great skin even greater. This past week, I had to go to a Mad Men-themed surprise birthday party and a wedding in Louisiana, so I decided to try a bit more makeup even though there was no camera involved. I moved beyond my favorite mascara and lip pencils… I even tried eyeliner, generating a gasp from my husband who commented on how exotic my eyes are… Here is what is currently in my makeup bag.
Laura Mercier Tinted Moisturizer in Nude. Like I said, I really don't like "skin makeup" – but this feels light going on and evens out my skin tone. Not for every day, but nice for special occasions. Unfortunately, it travels poorly, I have been on three flights in 5 days, and it has leaked on every one of them, so I am not sure I will keep this as a staple.
Alison Raffaele True Concealer, #2. This I love for the inner corner of my eyes and to cover up dark circles after red eyes and nights that are too short. (I also love Alison, and her brushes).
Trish McEvoy Loose Mineral Powder Shade 1. Danielle from Beauty & Main (a favorite Alchimie Forever client) turned me on to this, which is great for those days my skin feels extra shiny).
Nars Stick Blush in Orgasm. I can't remember where I bought this, but the name just was too good to pass up! I almost never use it, but like having it just in case I feel like rosy cheeks.
The one thing I will not walk out of the house without is mascara. After years of searching for the perfect one, Danielle (again) made me try the Trish McEvoy High Volume Mascara in Jet Black, and I will never switch. It goes on without clumping, stays on, does not run, isn't waterproof but can withstand a few years, and tubes off. The best.
I am also really into eyebrows (and super loyal to eyebrow guru Erwin Gomez), so I like eyebrow products. Erika from Jeffre Scott (another favorite Alchimie Forever client) recently talked me into trying the Blinc Eyebrow Mousse, in Dark Blonde. Color and eyebrow gel in one – can't go wrong here.
I have never used eyeliner, as I have never learned how to apply it. However, for years, I have been using the thick silver end of the Capri Line & Illuminate Pencil by Becca, recommended by Angela of Bellacara (can you tell I do my makeup shopping almost exclusively at favorite Alchimie Forever clients?). It sparkles, makes me look like I have diamonds (or tears) around my eyes, and who doesn't love a little sparkle. Last night, for this Mad Men party, I actually used the black eyeliner side of the pencil for the first time, prompting my husband's "exotic" comment. Maybe applying eye liner is not as complicated as I have always thought it was.
The one makeup product my Mom has used all her life (and don't we learn our beauty must-haves from our mothers?) is lipstick. To me, the right red will make any face look classic and put together. I have been using various NARS Velvet Matte Lip Pencils for years, and the three colors I always have in my purse to match various moods and occasions are Sex Machine, Cruella, and Dragon Girl.