Skies, Seas & Trees: Mary Page Evans at Addison/Ripley Fine Art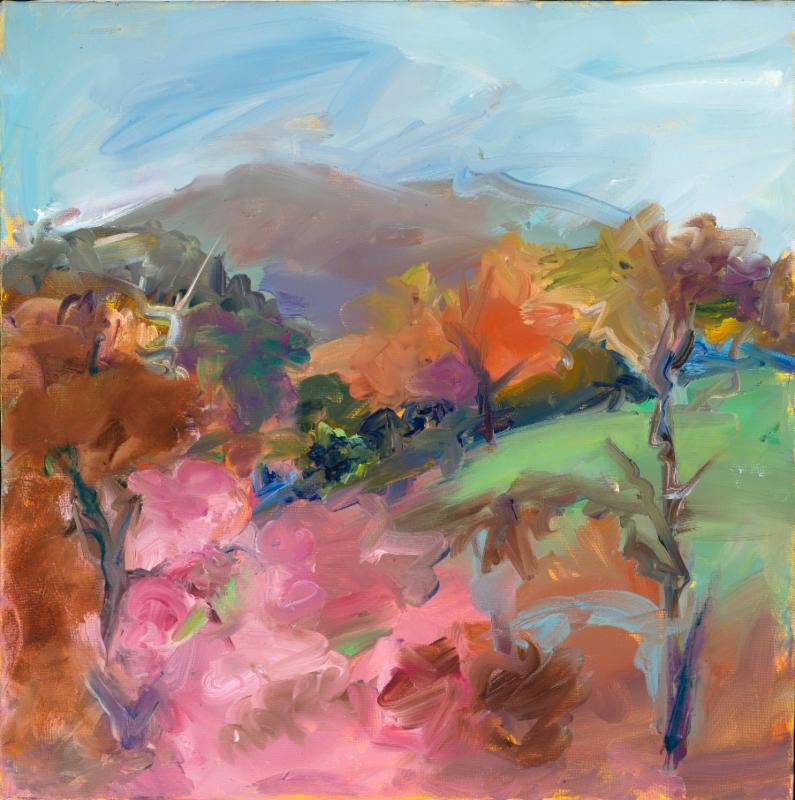 Visit Addison/Ripley Fine Art Gallery for Skies, Seas & Trees, an exhibition by Mary Page Evans September 12 - October 24, 2015. Opening reception for the artist is Saturday, September 12, from 5:00-7:00 pm.
Like the clouds that are the sometime subject of her paintings, constant movement and change in the work of Mary Page Evans is apparent in all of the her work. Her studio is strewn with the product of the artist's imagination and the close observation of the nature she delights in. Certainly it brings to mind one of the artist's mentors, Paul Cèzanne, who said of his work, "I think my mind becomes clearer when I am in the presence of nature." That clarity is present in this recent body of work, in the Virginia hills, the seashore clouds and the trees festooned with blossom.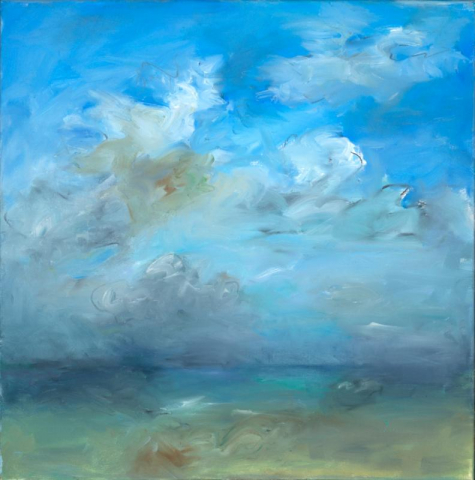 Somewhere between Paul Cèzanne and another strong influence, Washington Color School great, Gene Davis, is the nexus of Mary Page Evan's art. Her line and palette, her love of the outdoors for a source of constant inspiration coupled with a willingness to have her paintings exist as contemporary considerations of the more fragile ecology of our world mark her as a present day artist, attuned to her surroundings and capable of both intellectual rigor and elegant visual insights.
Strongly disciplined and aesthetically grounded in a deep appreciation of historical art, Evans' style is both fresh and familiar. Her Virginia hills have for her the same fascination as Mont Sant-Victoire had for Cèzanne. She continues to find new expression and intensity in the color and mood of clouds, new moments in their wayward flux. And her lines, outlining leaves or defining trees, are the expression of the distribution of light along one plane of an object, the momentary truth that fixes it to the paper or canvas. Perhaps, like a photograph, Evan's work captures an instant in nature's progress but, perhaps, as Cèzanne said, it reveals "a harmony parallel to nature".
Mary Page Evans is an American artist living and working in Delaware and Florida. She has had countless solo exhibitions over more than 40 years including ones in Virginia, South Carolina, Delaware, New Jersey, Pennsylvania and Florida. Her work can be seen as far away from Washington, D.C. as Kathmandu, Nepal in the recently built U.S. Embassy. In 2012 her work was the subject of a major exhibition at the Delaware Art Museum. Evans' drawings and paintings are held in many corporate and private collections throughout the US and Europe.
Addison/Ripley Fine Art is located at 1670 Wisconsin Avenue in Georgetown.