Size Matters: A Delightful Discovery at La Madeleine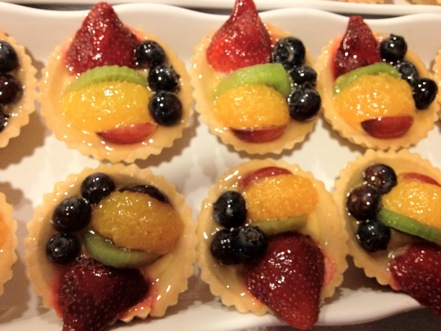 What a surprising respite! I was delighted Saturday morning, after my three mile walk to Memorial Bridge and back, to find La Madeleine open at 7:00 am. I was delighted to find a delicious cafe latte - and muffins and pastries even a nutritionist could love - and they weren't "diet" pastries.
Yes, you heard right! How could I enjoy La Madeleine and even its pastries?
First, I admit I'm a food snob. I buy all my fruits and vegetables at Farmers Markets, because I believe so strongly in the benefits of seasonal, locally grown produce. There are few restaurants I really enjoy because I expect fresh, superior ingredients, interesting small plates, and polite, professional service. I only frequent independently-owned businesses, because I think it preserves the uniqueness of the town and I want to support small businesses. So I've been at a loss since my favorite diner, Furin's of Georgetown, closed and Laura and Ricardo Bonnino left Griffin Market, along with their one-of-a-kind Italian delicacies. What to do? Where to go?
So on Saturday morning, after my walk, when I was in the mood to sit at a cafe and enjoy a latte and a little something, I broke down and tried Le Pain Quotidien - CLOSED - just as well. I've never had a good experience there and I blame them for Furin's closing (rightly or wrongly). Okay, what next... I wandered over to La Madeleine across the street, into which I have never walked before, tried the door, and it opened. Uh-oh, am I really in la Madeleine? I skeptically, cautiously walked up the stairs. After I asked if they could serve me a Cafe Latte and I was met with a cheerful YES. I was committed. But, "My! those muffins are huge," I said, feeling tempted but calculating the 500+ calorie counts in my head. "But," says a perky cook behind the counter, "we have smaller ones, let me show you!"
And there began my delightful discovery of an array of mini pastries, desserts and muffins I could enjoy and even recommend at la Madeleine. The size was perfect, just enough to enjoy, but not feel over-stuffed and miserable. I borrowed the manager's pen so I could scribble down some of the numbers for you:
Mini Blueberry Muffin - 160 calories (regular is 630)Mini Lemon Cream Cheese Muffin - 170 caloriesMini Bran Muffin - 140 (regular is 550)Mini Fruit Tart - 150 (regular is 500)Mini Lemon Tart - 200 (regular 820)Mini Sacher Torte Parfait - 300Mini Tiramisu Parfait - 220 (regular 520)Mini French Vanilla and Fruit Parfait - 110more...
I had a lovely time, sitting among the country French decor at the window, a lively Vivaldi playing in the background. Friendly, professional staff buzzing around. Will I visit more than once or twice a month? Probably not. But it's nice to know it's there!
For more information about la Madeleine, and what to look for in restaurant eating without the bulge ...
For more details: KatherineTallmadge.com