Site of Hyde Swing Space Still at Issue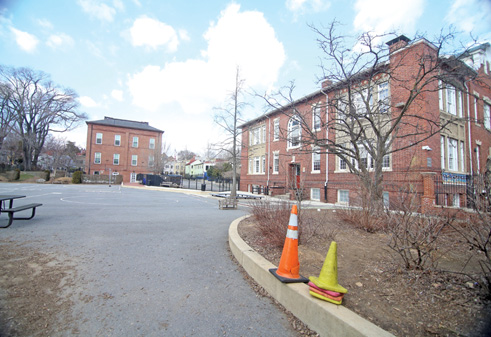 By Cuneyt DilCurrent Correspondent
Georgetown's advisory neighborhood commission has joined in on the opposition to temporarily locating Hyde-Addison Elementary School students to a campus in Shaw while the 3219 O St. NW school undergoes a two-year renovation.
ANC 2E (Georgetown, Burleith) said last Tuesday that the city ought to locate the school's swing space closer to Georgetown. A unanimous resolution, addressed to the mayor and deputy mayor of education, also calls on the District not to implement proposed cuts to the original scale of the renovation project.
D.C. Public Schools announced in early October that Hyde-Addison would be relocated during the renovation to the campus of Meyer Elementary School, at 11th and Euclid streets NW. In another controversial decision, Deputy Mayor of Education Jennifer Niles, had announced the city might scale back portions of the $25 million renovation, drawing backlash among residents and parents who for years have closely worked with the city on the project.
ANC 2E's resolution notes that the Meyer Elementary School swing space would create a 40-minute commute for students in Georgetown. "Hyde-Addison is the only DCPS neighborhood elementary school that is being required to relocate over three miles away," the resolution reads.
Regarding cuts to the project, commissioners warned that "significant changes to the ANC and Old Georgetown Board-approved original design" may mean extra delays to the work, which is now slated to begin fall 2017. The project's goal is to construct an addition at the center of the campus, connecting the school's two existing buildings. The revised design presented in October combines the proposed cafeteria and gym spaces, which were originally planned to be separate, and relocates an administrative office to the center of the campus.
"What Deputy Mayor Niles has done here is outrageous," said ANC 2E member Bill Starrels, whose son attended Hyde-Addison.
Fellow commissioner Jeff Jones said he has not heard a clear reason why Niles is pushing for the swing space to be at Meyer.
"I've spoken to her directly many times herself … [and] there's not been to me a clear and good reason why this decision seems to be forced upon the community," Jones said.
The deputy mayor for education's office did not return a request for comment.
Another swing space possibility discussed in the past was Hardy Middle School in upper Georgetown — which also holds the Fillmore Arts Center, a program that's slated to be shut down by D.C. Public Schools at the end of the school year. But that setup would have been problematic for both Hardy and Hyde-Addison, Carla Watson, chief operating officer of the schools system, told The Current late last month.
"We have a student body and a community there," Watson said in an interview. "For us to bring an entire school onto another school, we have to significantly limit their programmatic options, including their entire outdoor space."
One variable affects whether Hyde can use the Meyer space: whether the modernization project at Duke Ellington School of the Arts can be wrapped up on time this coming summer. Students from Ellington are currently using Meyer as swing space, but Watson said "we don't have any concerns" that the high school's modernization will be delayed.
Of the Hyde-Addison project, Watson said her office was working to finalize the designs. The recently proposed changes are still subject to feedback from Hyde-Addison's School Improvement Team.
"We're going to get swing space ready for the kids," Watson said. "We're going to start working for the buildings."
A neighborhood meeting on Hyde swing space and Ellington renovations is scheduled for Nov. 29 at 7:30 p.m. at St. John's Episcopal Church, 3240 O St. NW. Mayor Muriel Bowser and Ward 2 D.C. Council member Jack Evans will attend the meeting along with D.C. Public Schools officials.
Staff writer Mark Lieberman contributed to this report.
This article appears in the Nov. 9 issue of The Georgetown Current newspaper.