Signs burned on front lawn in Burleith in GU expansion controversy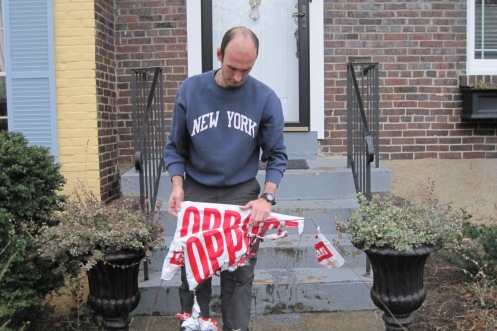 Vandals ripped out yard signs opposing Georgetown University's proposed expansion plan and set them on fire on the front steps of a Burleith house Sunday night between 11:00 pm and 8:00 am, according to D.C. police. The plastic red-and-white signs were taken out of hedges, a flower bed and the front lawn of at least two houses and burned. No witnesses have been identified. Metropolitan Police filed a report on the crime and took photos.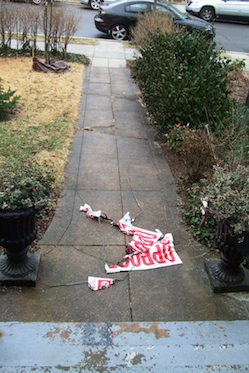 Tensions in Burleith have escalated as residents' frustration with the University continues to mount. But Burleith Citizens Association president Lenore Rubino said the burning of the signs is unprecedented. "We've had signs disappear and vandalized, but we've never had signs that were burned. There are legitimate ways for people to express their oppinions, but when you have burning of the signs it takes it to another level," she said. "The symbolism of burning something on someone's front lawn is not to be lost. It's intimidation and it's meant to incite fear." Georgetown University officials could not be reached for comment. Glen Harrison, whose signs were burned, fears his community is at the "tipping point," on the verge of losing its diversity to cheek-by-jowl student group houses. The proposed GU expansion will "increase the number of students without any [on-campus] housing for that growth," he said.
"I put this squarely at the University's feet, because if the University took responsibility for housing of its students, we wouldn't see these types of things," Rubino said. "To go trespassing and vandalizing someone's personal property is a crime."
The Georgetown ANC expects to vote on the expansion plan at its next meeting Monday, Feb. 28. ANC Chairman Ron Lewis said a draft position will be posted on the ANC 2E website this week. "We've gotten the comments from the community organizations and the University, so it's time for us to take a position."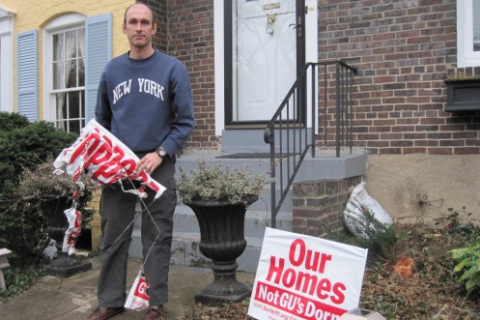 The first planned hearing by the D.C. Zoning Commission is April 14, following a recommendation by the D.C. Office of Planning. Two further hearings are scheduled in May. D.C. Councilmember Jack Evans has expressed "disappointment" with the expansion plan, saying, "I was disappointed to learn that the University's proposed campus plan does not include any significant action to move more undergraduate students onto the main campus." GU administrators have identified four guiding principles for the upcoming plan: academic quality, on-campus community life, civic engagement and sustainability. "This campus plan reflects Georgetown's ongoing commitments to enhance our academic mission and the quality of campus life while also contributing positively to our environment and the community beyond our gates," said Spiros Dimolitsas, the university's senior vice president in a statement. But after two years of dialogue with the University that seems to have resulted primarily in increased frustration in the community, residents say talks have broken down. "We look forward to presenting our facts and recommendations to the Zoning Commission," said CAG President Jennifer Altemus. Harrison quickly replaced the burned signs. Last summer, after signs were slashed by unknown persons, Harrison and his neighbors replaced them.