Sidney Lawrence Latest Artist in Georgetown Gongoozlers Mural Project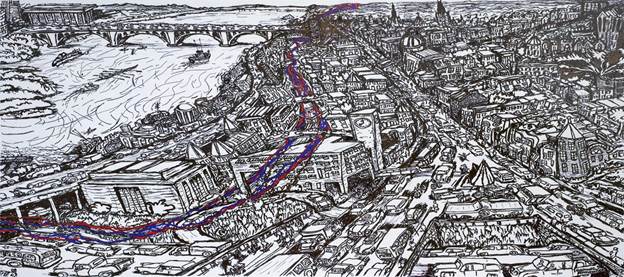 Georgetown resident and artist Sidney Lawrence is the latest artist to show work as part of the Georgetown Business Improvement District (BID)'s Georgetown Gongoozlers* mural project. His work, a reproduction of a detailed pen-and-ink drawing of Georgetown that evokes the area's past and present via the Canal, will activate the former Latham Hotel façade starting tomorrow morning at 10:30 a.m. through October 15, 2014.
According to his artist's statement:
This triptych invokes the past and present of Georgetown via its C & O Canal. At center is a digitally-altered blow-up of a fanciful, obsessively detailed, pen-and-ink aerial drawing of modern Georgetown, bustling with cars, people and commercial activity. With M Street on one side and the Potomac on the other, the canal wends its way gently across the composition, marked by bright red and blue lines that encourage the viewer to inspect its reach across and away from the urban landscape. This central panel is flanked by two red-toned period photos—one showing the distinctive arched bridge that crosses the canal at Wisconsin Avenue (purported to be the oldest bridge in Washington), and the other of mules tugging cargo boats further up the waterway. I would like this triptych to work as a reminder of how the C&O Canal offers both a sanctuary from urban bustle and a window to the past, not just a picturesque past, but a past with some heft. Georgetown was a working, industrial port. Its canal went inland with cargo boats powered by mules, and a stone bridge was erected to keep this activity uninterrupted.The canal and its boats, which seem so antique to us today, actually kept this city going.
The murals created for the Georgetown Gongoozlers project celebrate the history and natural beauty of the nearby C&O Canal. The project launched with artist Nena Depaz, whose mural was installed August 1. By the project's end date on January 5, 2015, four local artists will have invigorated the building's façade with original art installations inspired by the nearby C&O Canal.
Artworks will later be auctioned to support historic preservation and interpretation priorities outlined in the BID's 2028 Action Plan, a strategic approach to build an economically stronger and more sustainable commercial district. Visit the Georgetown Gongoozlers project page here; view the 2028 Plan here.
The public is encouraged to tag their best shot of Georgetown's C&O Canal on Twitter or Instagram now through January 5 using #GeorgetownDC for a chance to win one of several prize packs. Prizes will include tickets to signature Georgetown events, including Taste of Georgetown September 13, 2014, FAD (Fashion Art Design) October 25, gifts from local merchants, and more.
The Latham Hotel building closed in 2012 in order to make capital improvements. The Georgetown BID commissioned the temporary, rotating artworks to improve the streetscape during construction, discourage illegal graffiti, and to help support community efforts to maintain and interpret the section of the C&O Canal that is adjacent to the Hotel.
*"Gongoozler" n. "early 20th century (originally denoting a person who idly watched activity on a canal); Oxford English Dictionary