Shrimp with Peas and Pistachio Pesto Risotto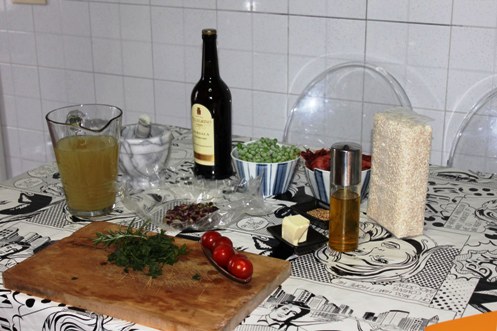 Well, my two girls played along with me and came up with the secret ingredient: pistachio. That's why I had to devise a tasty pistachio recipe for my guests. So I prepared a delicious risotto that I would like to share with you.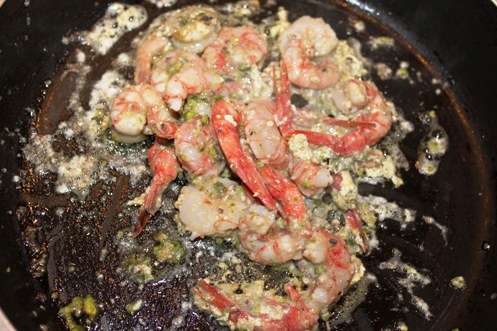 Shrimp with Peas and Pistachio Pesto Risotto
Ingredients:
500g medium shrimp, peeled and deveined
300 g pistachios
400g frozen peas 300g Arborio or Carnaroli rice 8 cherry tomatoes, finely diced 1½l vegetable stock 1 onion, chopped 2 tbsp olive oil 40g butter 1 egg yolk 3 tbsp freshly grated Parmesan cheese 1 small glass of dry Marsala wine fresh chopped parsley fresh chopped rosemary salt and pepper to taste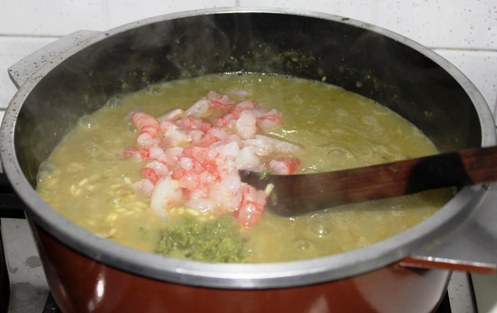 Preparation:
Peas and pistachios pesto
In a medium saucepan, combine peas, 1 bowl of vegetable stock, half onion, and salt. Bring to a boil, reduce heat and cook until peas are tender. Left a small cup of peas for decoration. Place peas, pistachios, oil, salt and pepper in food processor and process until well blended.
Clean and devein shrimp. Chop shrimp into small pieces. Remember to leave some shrimp whole with tail on for decoration (ideally the largest one, for 2 or 3 per person).
Risotto:
In a separate pan, melt the butter and add the onion and stir until soft. Add the rice into the onion, stir continuously until the rice is shiny (approximately 2 minutes). Pour the Marsala wine (leave some Marsala to cook the rest of the shrimp) and simmer until evaporated. Add the stock and couple of spoon of peas and pistachios pesto. Continue adding stock and pesto at a time, continue to do so until all the pesto has been incorporated (don't add stock or pesto until the one you poor before isn't completely absorbed). The last five minutes you add the chopped shrimp, chopped tomatoes, the cup of peas and the Parmesan cheese. Let the risotto rest for a few minutes. Meanwhile dredge the whole shrimp with chopped pistachios and add to an hot pan, spread a bit of olive oil and let them cook, add the egg yolk and the rest of Marsala wine, cook for 4-5 minutes.Serve the risotto topped with the chopped sparsely, rosemary, and the whole shrimp you have cooked a part (2-3 per person).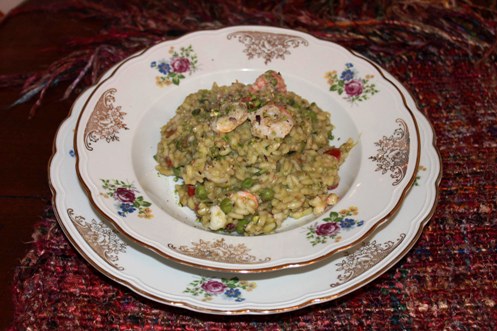 The secret for a perfect risotto is to use only fresh and high quality ingredients (I used fresh shrimp, Bronte's pistachios, and top quality Marsala wine ) and stir often and cook it over a low heat until the rice is creamy and "al dente" (25-30 minutes).