On The Shopping Block: The Merchants of Rose Park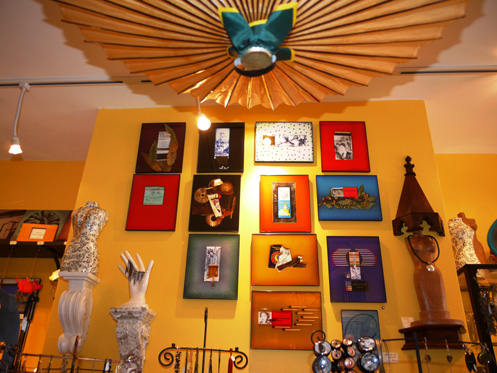 Never have the shops on P Street proven to be more of a destination for the residents of Georgetown than during the white-out of Snowmageddan. While waiting, it seemed forever for those of us whose cars were parked on side streets, for the plows to come, we could still get milk at 7- Eleven, pick up dry-cleaning and have our pants hemmed at Midtown Cleaners, purchase a bottle of wine (or two!) at Georgetown Wine & Spirits, select the perfect gift at West of Soho, and get provisions at Griffin Market.
Image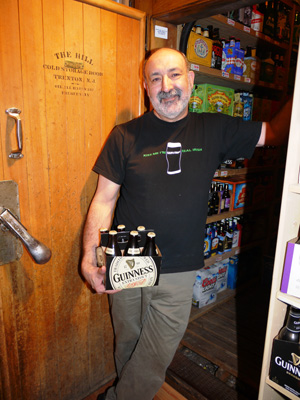 When I walked into Georgetown Wine & Spirits at 2701, I did what manager Manuel Michalowski (pictured at right) says most women do, go straight for the vodka! (Is that a bad thing?) Men dart for the beer, which, in this case means the locker room in the back, stocked chilly with over 40 varieties. Current owner, Ankur "Andy" Desai has been catering to his Georgetown customers in a tradition that dates back to 1934! Gotta wonder from where those famous Clydesdales were dispatched when Anheuser-Busch (so the story goes) had them deliver a case of Budweiser to the White House following ratification of the 21st amendment. Besides the beer and spirits, especially vodka and single malt scotch, California Chardonnays and Cabernets, Malbec, and other Spanish wines top the list as neighborhood favorites today. Stop by in the morning for the fresh baguettes.
P Street Pictures on the corner at 2621 is where I've been having my artwork framed for almost as long as Judy Schlosser has been in business: 27 years. Her children are grown now. Before she was married, Judy was an accountant who could never find the right frame. She hasn't had that problem since 1983, when she opened her first shop in the middle of the block, now home to P Street Kids nursery school.
Image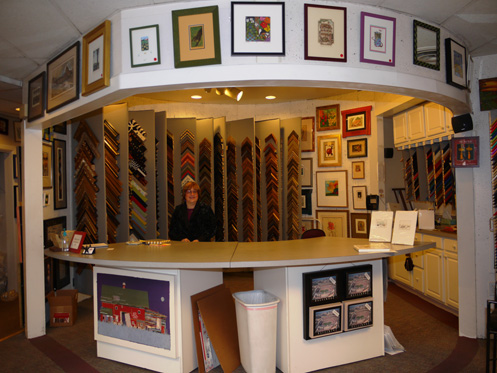 With her from the start, Susan Barreca and Drena Anderson continue to pr
Image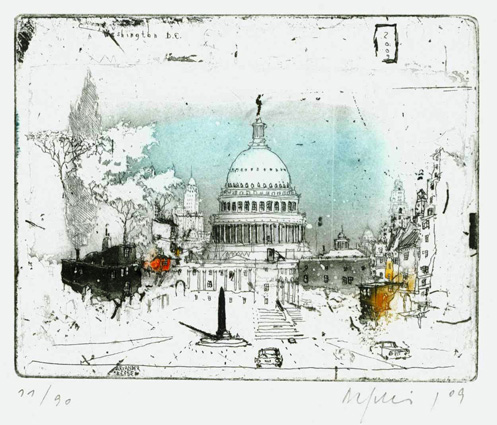 ovide expert custom framing. Don't miss the exquisite hand-gilded photo frames from Romania on sale through April 3rd.
If she only carried the best selection of frames in the city, it would be worth a visit, but the gallery has an extensive inventory of original art, including the cities watercolor etchings of Alexander Befelein, carried in Washington exclusively by P Street Pictures for 25 years, and a personal favorite. Forty original etchings (I have his "Napoli") along with Alexander's recently published book are currently featured at the shop. Pictured at right is his "Washington DC."
If you've been to Morristown, New Jersey, you might remember Yvette Hausner's first West of Soho boutique, a personal and home accessories shop much missed when she moved to Georgetown with her husband a year and a half ago. A whimsical collection of functional art which Yvette calls "music for the eye," luckily for us, has a new home at 2613. From pottery to jewelry to masks and mannequins, if it's artistic, fun and functional, you're likely to find it at West of Soho. Pictured above is a wall arrangement of Alexandre" Sasha" Sazonov's matchbook art.
His favorite decade is the 1950's (50's only furnishings for his 1953 built-home) but owner Bruce Nichols carries all manner of 20th century home furnishings from traditional to modern at Metropolitan Interiors at 2603. Wedged between iconic designer chairs (including a leather Charles Eames leather or a teak and cane Hans Wegner), you may spot a rare Gilbert Watrous lamp by Heifetz. A lighting connoisseur, Bruce owns all five winning lamps (different designers but all manufactured by Heifetz) from the Museum of Modern Art's 1950 lighting design competition. Pictured below, in the foreground is a pair of 1970's faux bamboo chairs.
Image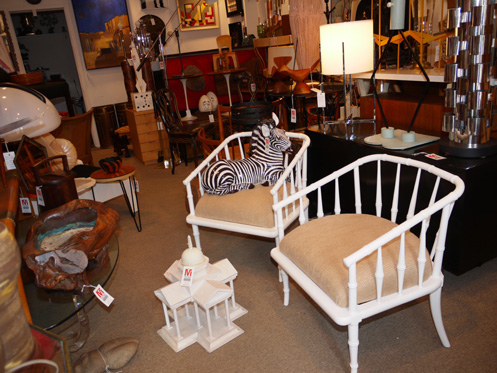 For 10 years, Jean-Pierre Antiques has graced the corner at 2601. His "forte is windows", says owner Jean-Pierre Sarfati. Those stylish European displays often prompt eager patrons to call Jean-Pierre's home in the early morning, afraid their treasures will be sold before the store opens. While decorating tastes have changed in the last decade from French provincial to Swedish painted furniture to the current trend of natural wood, Jean-Pierre always has the "touch." Not shy about mixing a Lucite trolley with a 19thcentury Italian Santos, the shop is as popular with decorators as it is with well-traveled Washingtonians. Open seven days a week, you might want to join the decorators on "Designer Mondays." Pictured at right, Italian and South American Santos atop an 18th Century French country pearwood buffet.
Image