'Shark Girl' World Premiere June 8th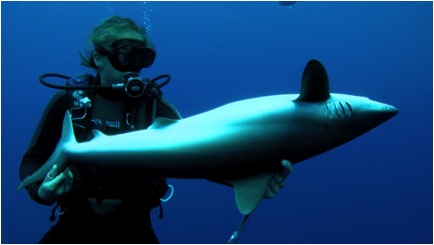 Event: World Premiere of Shark Girl (USA, 2014, 46 min.) followed by Q & A with the film's subject, shark conservationist Madison Stewart, and director Gisela Kaufmann
Who:Presented by the Smithsonian Channel, Environmental Film Festival in the Nation's Capital and National Museum of Natural History
When: World Ocean Day, Sunday, June 8, 4 p.m.
Where: National Museum of Natural History, Baird Auditorium, 10th St. & Constitution Ave., NW
FREE. No reservations required. Suggested ages: 12 and up.
Sneak Peek: http://youtu.be/G_IyhtM3Ygo
Further information: http://ocean.si.edu/ocean-news/world-oceans-day-2014-events
SHARK GIRL (USA, 2014, 46 min) World Premiere of Smithsonian Channel documentary. Madison Stewart is an inspiring young woman with a passion to protect the creatures most people fear: sharks. Known to many simply as "shark girl," she's been diving with sharks since the age of 12. Now 20, Madison has made it her life's mission to safeguard the creatures and the reefs she loves. Shark Girl dives into Madison's underwater world, following her journey from Australia to Mexico, Palau and the Bahamas, where Madison's extraordinary relationship with these endangered wild animals unfolds. Her journey is a powerful wake-up call about the vital role of sharks in the health of our oceans and a moving recordof one determined young woman's devotion to protecting the sharks and underwater ecosystem of our world. Directed by Gisela Kaufmann. Produced by Kaufmann Productions in association with Smithsonian Channel.