Senator and Samantha Strauss Sparkle in Starbucks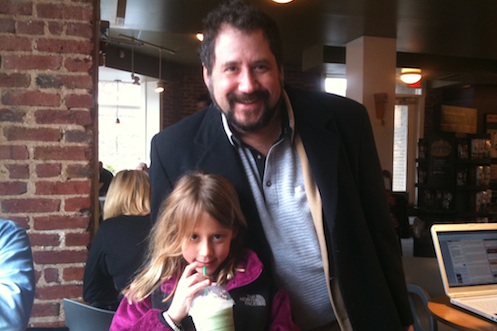 It was a gray afternoon, but you'd never know it as Samantha Strauss, daughter of Sen. Paul Strauss, sauntered into Starbucks with her Dad on upper Wisconsin Ave. Sunday. Whether it was the serene glow of a beautiful 8-year-old, or the huge, lime green smoothie she carried, the room got brighter as the two stopped in during their weekend errands.
"This is our regular Starbucks," Sen. Strauss said. Indeed, we've seen him lugging campaign paraphernalia many a weekend since he began serving in the Shadow seat in 1997. He hasn't fielded much serious competition for that seat in some time, but in 2008 Strauss ran for the Ward 3 Council seat now held by Mary Cheh. That was a battle.
More importantly, Samantha allowed that she is in the second grade at Stoddert Elementary School. Stoddert is not far from the site of the annual Palisades 4th of July parade, where Samantha started to come into this world on July 4, 2001. "We rushed her mother to GW Hospital during the parade, and Samantha was born," Strauss said. "That whole parade every year is for her birthday, right Samantha?"
Of course, Dad. So what's on the minds of public school parents these days? In Georgetown, it's turmoil at Hardy, questions about the future of Duke Ellington, and of course the stunning statements made by Chancellor Michelle Rhee to Fast Company magazine that seemed to label hundreds of laid-off teachers as criminals, even child molesters. It may be time for a course called "PR 101" for the high-flying schools chief...