School neighbors band together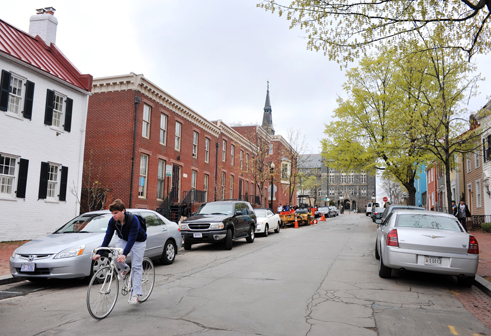 By Elizabeth Wiener
Current Staff Writer
Rightly or wrongly, neighborhood groups see themselves in a David-and-Goliath struggle when they fight university expansion or student housing near their homes. Now the "Davids" are teaming up to present a united front against several universities currently plotting their growth for the next 10 years.
The newly formed District-Wide Coalition of University Neighborhoods hopes to maximize clout at the D.C. Zoning Commission, which rules on campus plans, and with city officials who could change the rules of the game. And the group hopes to provide a counterweight to the Consortium of Universities of the Washington Metropolitan Area, which helps its members develop their growth plans.
On the opening evening of hearings on Georgetown University's campus plan last Thursday, members of the citywide coalition arrived to listen to and to show support for the several Georgetown neighborhood groups fighting what they call a proposal for "aggressive growth." The school, which calls the plan "modest," has proposed raising the main-campus population by about a thousand graduate students, developing a campus service road and constructing some projects proposed in the last plan but never realized, such as a new athletic training facility.
The coalition's steering committee includes residents near American, Georgetown and George Washington universities -- all girding for fights in the coming months at the Zoning Commission -- as well as Howard and Catholic universities. The coalition also hopes to recruit neighbors of the University of the District of Columbia, where a fledgling town-gown fight is also brewing.
Sally Kram, director of government relations at the university consortium, disputes any "David-Goliath" imbalance in the perennial battles between the institutions and their neighbors.
"Advisory neighborhood commissions receive great weight; community groups can get party status," Kram said. She said the Zoning Commission weighs the needs of hundreds of students and faculty members against the concerns -- often "subjective," according to Kram -- of smaller groups of neighbors. "Many of their arguments are emotional," she said.
The coalition's founding comes at a crucial time for many neighbors of three local universities. Along with last week's kickoff of hearings on Georgetown's campus plan for 2011-2020 – for which continuation dates have been set for May 12 and 16 -- a May 2 hearing is scheduled for the University of the District's first-ever campus plan and for its proposal for a new student center on Connecticut Avenue.
On May 18, George Washington will present plans "to designate recently acquired properties within the campus boundaries" for university use.
And on June 9, what promises to be a fierce fight over American University's campus plan will take center stage, possibly continuing into July. Plans to move American's law school to Tenley Circle and to build dorms on a parking lot near private homes have riled community groups.
Members of the new coalition say that while large universities benefit the city in many ways, they also present distinct challenges to the neighborhoods they call home -- "overwhelming density and growth, traffic congestion, disruptive noise and safety issues," according to a statement from the group.
And universities tend to grow, both to increase offerings and to attract more students, whose tuition is a major source of revenue. When they acquire property for university use, it comes off local tax rolls.
Jacqueline Meers, a Spring Valley resident who has been involved in battles over American University for years, helped form the coalition. "We've all fought these battles separately for years," she said, "but the battles are very similar, [as are] the results."
Meers noted that community groups have had some influence in shaping campus plans, forcing enrollment caps and, for example, a downsizing of the Katzen Arts Center at American University. "But we also had the very tragic lesson of what happened to Foggy Bottom," where she and others say George Washington University has overwhelmed the residential community.
"The universities all banded together into the Consortium of Universities," Meers said. "But we're just volunteers. We've had to put out our own money to get changes that would not run over our neighborhoods."
Asher Corson, a George Washington graduate who also helped form the resident group, contends that his alma mater's success with its campus plan in 2007 "set the stage for Georgetown and other universities to pursue massive expansion." In an interview, he said, "Georgetown would not have contemplated something this aggressive" if George Washington had not led the way.
The universities often use the same zoning attorneys and a "strategy pioneered by GW: highly aggressive, expand as much as possible, and not deterred by overwhelming community opposition," said Corson, president of the Foggy Bottom Association and an advisory neighborhood commissioner.
Kram of the university consortium rejected Corson's characterization of school expansion efforts as "massive" or "aggressive." George Washington, she said, proposed to build "up, not out," concentrating new construction in the center of the campus, partly in response to neighborhood concerns. And the growth of universities is driven largely by the demand for a college-educated workforce, not greed, she said.
Beyond the Zoning Commission, the new coalition has several goals. An oft-mentioned priority is establishing a "payment in lieu of taxes," or PILOT, to make up for the loss in property taxes that occurs when universities and other deep-pocketed institutions buy up land and win tax exemptions for it because of their nonprofit statuses.
Other objectives include caps on enrollment at all local universities, and requirements that all undergraduates be housed on campuses, with dorms away from the peripheries so students would not disturb residential neighbors.
Kram said the university consortium opposes a payment in lieu of taxes. Unlike in other jurisdictions, she said, there is no District-funded program that provides financial aid for students, so universities here must dip into their own funds to support them. A payment in lieu of taxes would subtract from funds for student aid, she said.
As for housing all undergraduates on campus, Kram said such a policy would violate the Human Rights Act by mandating where people live based on their "status of matriculation." No city mandates that all college students live on campus, because that wouldn't allow for students who live at home or are married, she said.
This article appears in the April 20 issue of The Georgetown Current newspaper.