Scenes from a Vacation - Part 1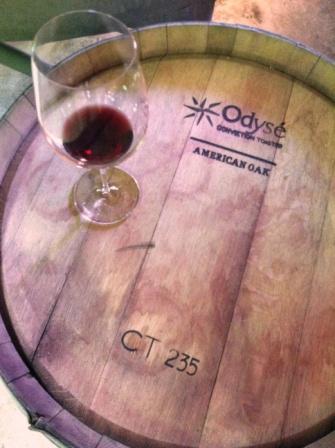 I just spent five days in Northern California with six girlfriends from home. We're known as "the nine" (I've mentioned them before) and were obviously short two on this trip. We get together every summer, but this year we decided to do something extra special. To round up that many women with husbands and careers and kids is no small task, so the fact that we accomplish it at all is a big deal. An even bigger deal is how long we have sustained our friendships. They date back to high school, grammar school and even pre-school for two of us. Our longevity and stamina definitely warrant a celebration and where better to do that than wine country USA – Sonoma and Napa. It was the perfect venue. Gorgeous vistas, delicious food and the chance to talk, laugh and share with friends I rarely see, but couldn't live without. Cheers to my crazy, spirited, hilarious gaggle of girlfriends!
Night one decompressing on our deck with cocktails. Our house was situated at the top of a mountain with views of the whole valley.
We were picked up bright and early on day two for a day of wine tasting. That's our driver in front leading us up a path to our first winery, Quixote.
Quixote is not your run-of-the-mill winery. The unusual architecture, incredible art
collection and one-of-a-kind wine barrels with their candy-colored hoops added to the
magical, Willy Wonka-esque atmosphere. And then of course, there was the wine.
At the second winery, Honig, I found my Napa vibe …very chiiillll.
For our third stop, we enjoyed a hillside lunch with the owners of the Frias Family Vineyard. It was a lovely, low-key transition between wineries.
The final winery of the day was Flora Springs in St. Helena. Thank goodness for our laid-back and tolerant guide, Travis. We were pretty pickled by that point, so you can only imagine what a handful we were. He took it all in stride and treated us to perhaps our favorite tour of the day.
We spent day 3 in Sonoma at the spa and finished with dinner at Della Santina's.
Our group split up on our last day in wine country. Four of us chose to go riding on the Kunde Estate. The breathtaking views and our fantastic guide Dominic created a near perfect afternoon.
One last night of delicious wine and food at the award-winning Bistro Jeanty in Yountville – the tomato soup in puff pastry was a big hit with the girls – and then it was back home for most of the group. My friend Lori (far left) and I spent an extra day in San Francisco … but that's another post.
Read about San Francisco in my next post, Scenes from a Vacation – Part II.
Tricia xo