Saving The Past: A Sign That Melds Historic With The Modern @ il Canale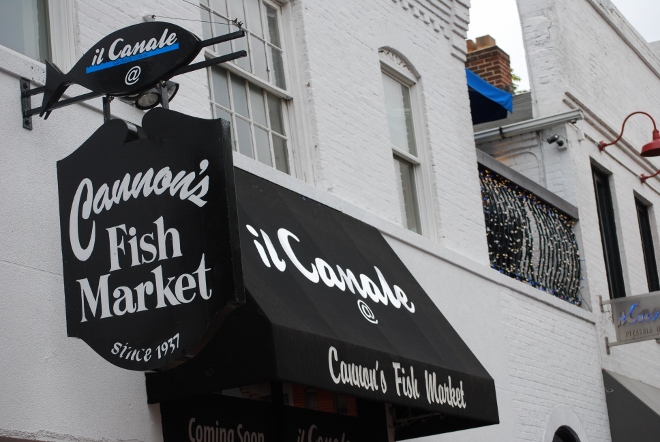 Long-time Georgetown residents will appreciate that il Canale owner Joe Farruggio is paying homage to the old Cannon's Fish Market on 31st Street by keeping the historic sign with a few updated changes.
The newest awning and original fish sign now bear the title "il Canale @ Cannon's Fish Market."
One gentleman who has worked for years in Georgetown, looking up at the signage smiled in appreciation. "It gives me goose bumps, and good ones at that," said the man who is employed at another hospitality business on the street near the C&O Canal. "Cannon's is an institution. I'm happy that a piece of history was saved."
Il Canale, georgetown, plans to open the expansion later this month. The entire operation will be a restaurant. If anybody wants to dine on fish, it'll be on the menu in some delicious Italian dish.
Cannon's ceased operation as a retail seafood market last year when the owner of the building decided to shutter the business, which had been operating since 1937.
The il Canale and "il Canale @ Cannon's Fish Market" buildings are adjacent and are now connected by a wide interior archway.
Under the direction of Farruggio and Italian-American Melo Cicala, a Georgetown resident, the old Cannon's is being transformed as an integral and important space for il Canale to serve its pizza-loving patrons. Cicala is active in the Italian culture in D.C. and is involved with the Italian media in the USA and Italy.
Interior designer Barbara Hawthorn, who did the original il Canale interior highlighted by lighting fixtures that resemble truffles, extended the established overall theme to the expansion with a modern, colorful atmosphere, all the while taking in efficiency of seating and space. www.barbarahathorninteriors.com.
"The added space will make it possible to accommodate even larger events and parties," Farruggio said. "We are proud to be in the hospitality business in Georgetown and to be able to serve the community.
"Everybody connected to this project, from the contractors to the builders to the interior designer and artists, did outstanding jobs," said Farruggio. "It all took many months to complete but the results will be well worth it."
Most of the historic brickwork walls were kept but otherwise the old Cannon's has an entirely new, clean atmosphere. The wood-burning pizza oven remains on the il Canale side.
Il Canale is one of only a handful of DC area pizzerias holding the approval of the Associazione Verace Pizza Napoletana, the Italian group dedicated to protecting the good name of Neapolitan pizza. VPN requires that certain ovens, dough mixers, Italian "00" flour and other ingredients be used in cooking the pies.