Saving Georgetown's Valley of Eden: Part 2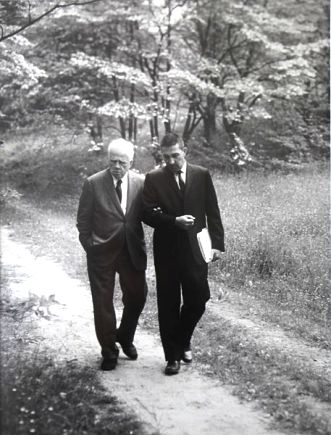 Who more eloquently than Robert Frost can remind us of the magic of rural nature? To a group paying tribute to Henry David Thoreau 50 years ago this month, the quintessential American poet said this.
"Whenever I'm weary of considering, and I can stand things no longer, I always say: Give me the woods."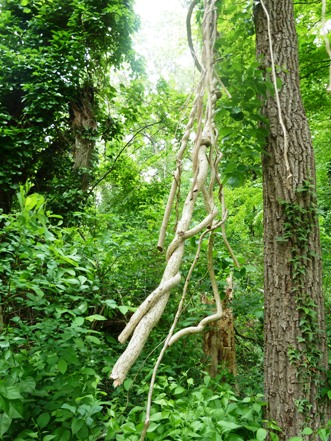 The historic event where Frost spoke was sponsored by Secretary Udall and The Wilderness Society (included guests Chief Justice Earl Warren and Justice William O. Douglas) to draw attention to a wilderness bill that had stalled in Congress. Eventually signed into law by President Lyndon B. Johnson in 1964, the Wilderness Act created the legal definition of Wilderness and protected over 9 million acres of federal land.
In the half century since the bill's signing, Dumbarton Oaks Park has not fared so well. Invasive plants (including fragrant honeysuckle and spreading bamboo) have overrun the Park. Storm water runoff from neighboring structures has eroded the hillside and threatens the delicate ecological balance.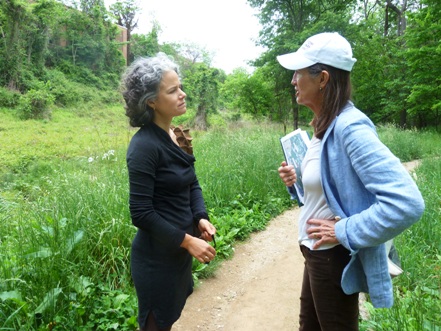 Together with the National Park Service, the Dumbarton Oaks Park Conservancy is working to correct these problems. The goal is to restore the Park to it original brilliantly naturalistic design and to make it accessible to everyone.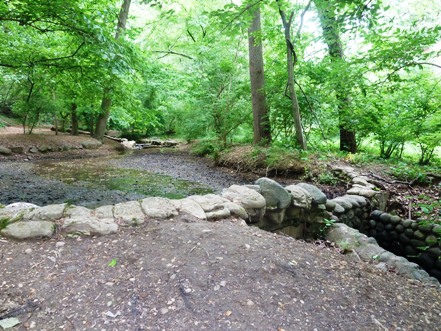 Its history goes back a few hundred years before then, but the Dumbarton Oaks we know was born in 1920 when Mildred and Robert Woods Bliss bought, what grew into a 56-acre Georgetown estate.
The house and grounds have been well documented, generously granted to Harvard University by the family and turned into a museum open to the public.
The 27 acres that make up the northern portions of the Bliss property were donated to the U.S. government and are managed by the National Park Service. That's Dumbarton Oaks Park.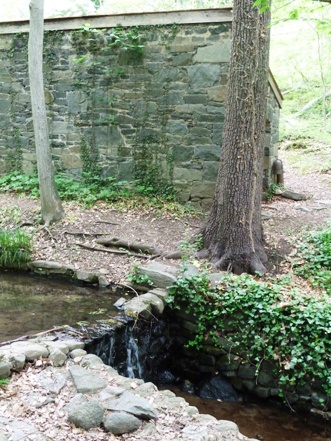 Landscape architect Beatrix Farrand (with the help of Mildred Bliss) turned the land into a naturalistic landscape of stream, woodland, and meadow. A circular walk begins at a stone bridge, crosses through a series of waterfalls and pools, meets a forest of mixed, largely native, trees and shrubs and then winds through four meadows on the northern slope above the stream. Many plant species chosen by Farrand for the upper gardens extend into the lower gardens: Forsythia, native Rhododendron, Scilla, and Crocus.
The formal threshold to the naturalistic garden, Forsythia Gate was intricately decorated with the Bliss RBM monogram. From inside the property it reads: Dumbarton Oaks Park. From the Park it reads Dumbarton Oaks. Just one of many examples of the architects' attention to detail.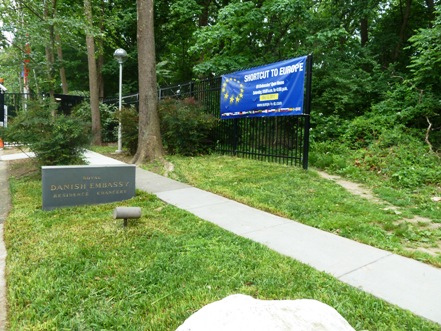 In Part 3, plans for making this a park accessible for everyone ... and how to make your way in and out.