Sanity prevails...for at least a few hours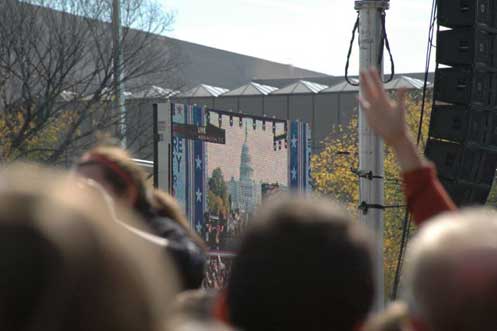 On Saturday, October 30th, a sea of humanity gathered in the shadow of the Capitol and the monuments. What brought them there was not the performances, perhaps, but with a turnout like that, with the city being a virtual zoo--hotels full, transportation a cost, the streets a parking lot, and actual parking, not to mention trying to walk the streets, nearly impossible . . . one has to wonder, aside from celebrity, what was the motivation of the throngs? How could it be that a couple of actor/comedians could garner such a following and establish more cred than many journalists—some so-called, and some esteemed?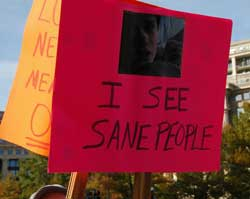 Perhaps we are tired. Perhaps we are sick of those that so loudly proclaim themselves "real Americans." Perhaps we all really are 'mad as hell, and we're not going to take it anymore'…to coin a phrase. Perhaps there is one thing that has finally resonated: reason. As the political pundit "personalities" and 24 hour news channels spew alarmist venom and make mountains out of molehills, perhaps we have all become just a little sick of the often crazed and mindless rhetoric. As Stewart put it in his speech, "if we amplify everything, we hear nothing." Well, yes. All the incendiary chatter has made some news channels and publications the 'Emperor's New Clothes' of expression. Comics are of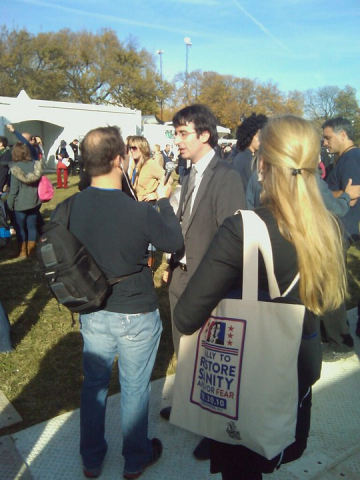 ten the most astute observers of life. Perhaps, then, this makes Stewart and his satiric nemesis Stephen Colbert the voices of reason—voices that aren't afraid to make light of, and call out everyone from the media to the lunatic fringe when they step out of line. Apparently, America is listening. At the Mall on the 30th, hundreds of thousands of citizens told those that are seemingly the loudest and harshest voices that they are wearing no clothes; that we are not afraid to say that anymore—and that we actually want to. The part of this that is both the best and the worst is that Stewart told the crowd exactly what they wanted to hear with all the right words and all the common sense. His address sounded like the world's best political speech. He could have run for office at that very minute, and all humanity then present would have most likely followed him like lemmings—myself included. If he did actually seek out and gain political office, however, chances are he might turn into the self serving politician we see so often. Maybe not, but there is human nature to consider, and perhaps a little of the cynic in me. It will be interesting to observe how this movement of reason moves forward. But on the 30th of October, people delighted in each other's creativity—the costumes were a
musing and signs carried by attendees displayed some of the best comic lines offstage. People cheered and laughed and understood the folly that is on display by some of the…shall we say…'more extreme' of both sides of the aisle in government and media. And how fitting was it that the day ended with Mavis Staples singing "I'll Take You There," a tune of that Utopia which is a place where "ain't nobody crying…ain't nobody worried…?"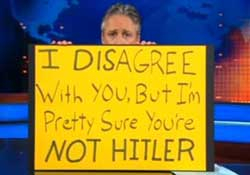 The Rally for Sanity (and/or Fear) was broadcast live and seen in person by a huge number of people. The sad part about it is, though, that those that really need convincing were probably, if not definitely, not listening or watching. But for those that have been the silent masses, it was a day to speak up with a sense of clarity, serenity and reason—which has of late been all too quiet and all too lacking. Perhaps the real Americans are not the ones that wave the flag and garner large sums of money and publicity for touting just how American they are. Perhaps many of the real Americans were on the Mall on October 30th.