Salud from the Roof Terrace of the Kennedy Center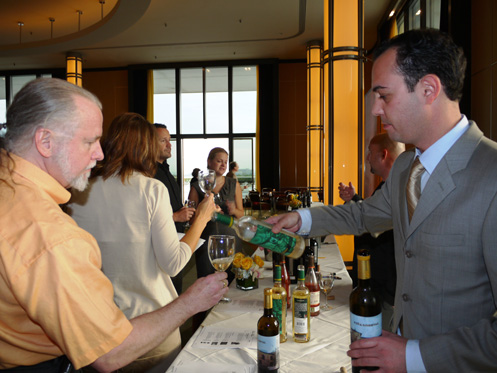 Location location location. Bar none, there's no more spectacular, romantic, elegant, spacious venue in all of Washington from which to enjoy a glass of wine than the Roof Terrace of the Kennedy Center ... especially if it's a Bodegas Tarima, the brand new creation of wine pioneer and importer Jorge Ordonez.
Wednesday evening marked the launch of a monthly series of Roof Terrace wine and food celebrations. Over 100 of the city's wine connoisseurs and Kennedy Center patrons joined the socially savvy who simply couldn't resist spending an autumn evening out, Spanish-style. Welcomed by John Coco, Kennedy Center Food & Beverage Manager, and Michael Windle, wine consultant from Country Vintner, accompanied by the gentle Flamenco guitar strumming of brothers Jose and Caesar Oretta, guests enjoyed a delicioso buffet of tapas and desserts prepared by chef Ben McCormick.
With a portfolio of 130 wines from over 40 wineries, narrowing Jorge Ordonez's selections down to eight (and all under $20!) for the evening's tasting was a task expertly accomplished by John Coco and Michael Windle.
Carie Shaffer brought her friends along, after hearing about the event from a wine shop in McLean. While Carie has been enjoying regular Kennedy Center Sunday brunches, for Nebraska native Stephanie Clifford, this was her first visit to the Kennedy Center.
Recent Berkeley graduate and crisis management professional, Olga Kalashnikova and Tino Angelov, philanthropist, art lover, and Dish fan, this was a pre-"Shear Madness" performance cocktail hour.
First in line: Vina Godeval, 2007, the star grape from the revival of the Valderras Vineyards was a clean firm white with pear, pine and anise notes. Next, Paso a Paso Verdejo, 2007 , another white with a nose of spicy lemon and lime and a strong mineral undertone. Adding a touch of pink to the table, Muga Rosado , Rioja 2009, a "Calerete" fruity rose from Garnacha vines. Bodegas Ateca, 2008, from 100 year old Garnacha vines offered a floral bouquet with scents of black raspberry, lavender, Indian spices and white pepper.
The first vintage of a joint venture between Jorge Ordonez and the Gil family, Bodegas Tarima, 2009, a 100% Monastrell grape with aromas of blueberries, was fruity and firm on the plate. Can Blau, Catalonia-Montsant, 2008, a blend of Carinena, Syrah, and Garnacha, had a ruby red bouquet of mineral, smoke, black cherry, and plum.
And my personal favorite, Triton Tor, 2008, a full-bodied ripe fruity Tempronella with aromas of cocoa and a hint of dark chocolate for a long finish.
Save these dates: Friday October 22nd for Harvest Celebration featuring wines from Alsace, Mosel and Rheingau & November 15th for Drink Local! Taste the best of Old Dominion wines. To reserve space for upcoming wine events, call (202) 416-8555 or reserve through OpenTable.com