Salamander In The Snow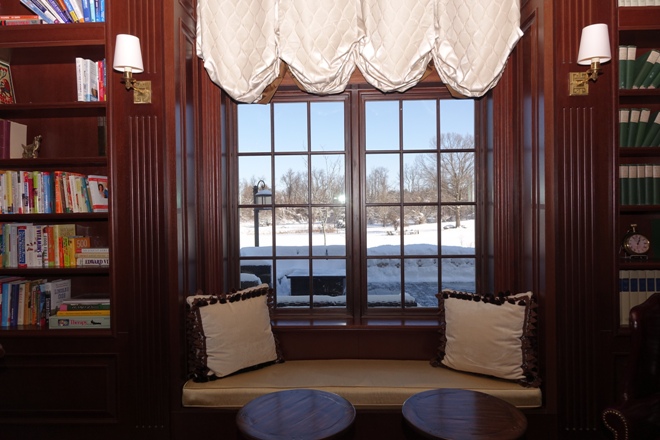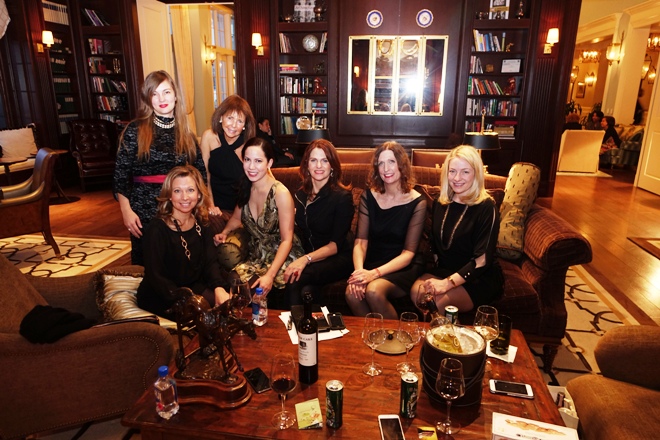 All the meteorologists told us to stay home. It was a blizzard out there. But we had to get to Salamander! You see, three months ago, our Georgetown-based book club decided we deserved our first overnight retreat, a luxurious home away from home setting for our monthly ritual of serious drinking, and wry critiquing. We were unanimous, it had to be Salamander Resort & Spa in Middleburg. Booked for early spring, we expected sunset cocktails on the terrace, swimming and riding before the must-experience spa facials and deep massages.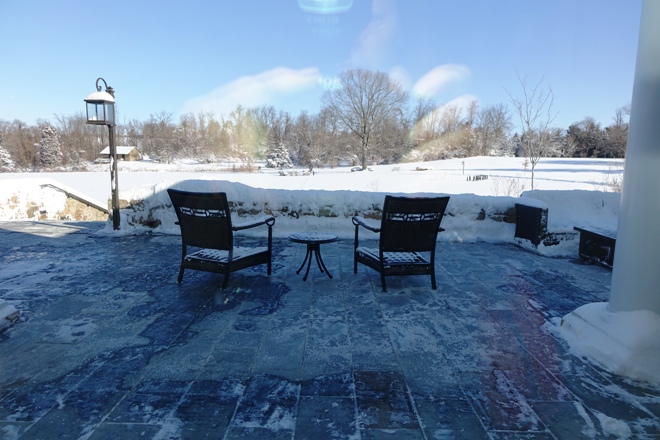 It was Currier & Ives that greeted us. And the 168-room resort was full! Apparently everyone else had to get there too.
Ok, we'd have to improvise. Donning turtleneck sweaters and knee-high boots, we compared our tales of a blistery commute (and one evasion of a traffic ticket) beside a crackling fire. Our champagne kick-off started at 9:00 am (we left early).
Before we knew it, it was time for lunch. In the Gold Cup Room, while tempted by specialties more indigenous to the Piedmont Region, I opted for the sushi. So glad I did. No wonder that's the chosen specialty for an exclusive Sushi & Red Burgundy Dinner charity event on April 13th.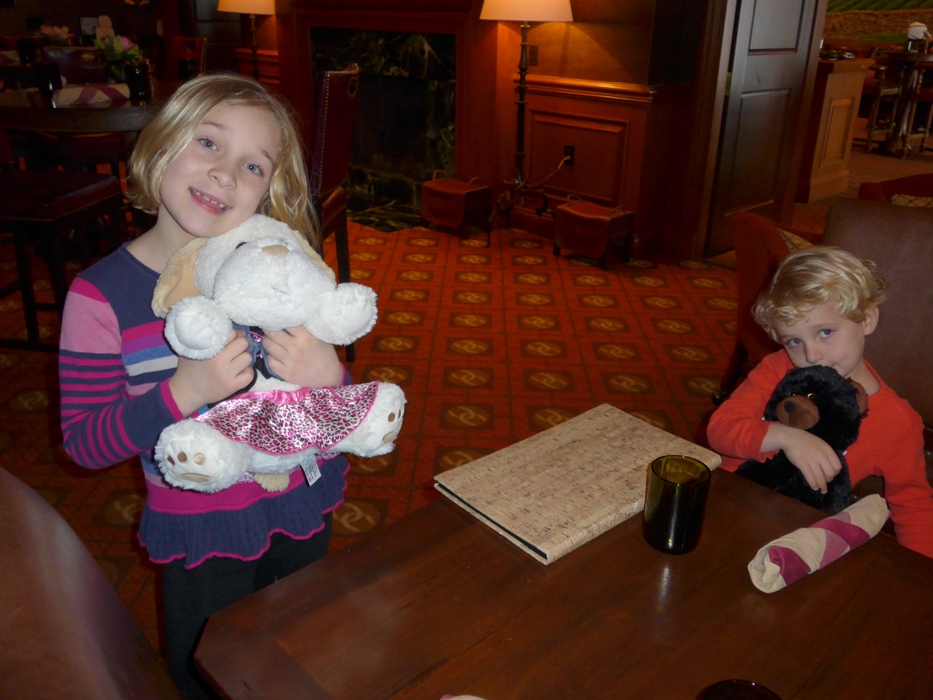 Did I mention that in addition to official members of book club, we brought along a five and seven-year old and a nine-year old Yorkie. While we were busy drinking and congratulating ourselves on our bravery, the recreation staff was effortlessly entertaining the little ones with Make-a-Bear (and Dog), indoor swimming and an assortment of games and snacks.
After a brief nap in our well-appointed spacious rooms complete with fireplaces, footed bathtubs, balconies and welcoming chocolate-covered strawberries, we reconvened to the library for book talk and an aperitif.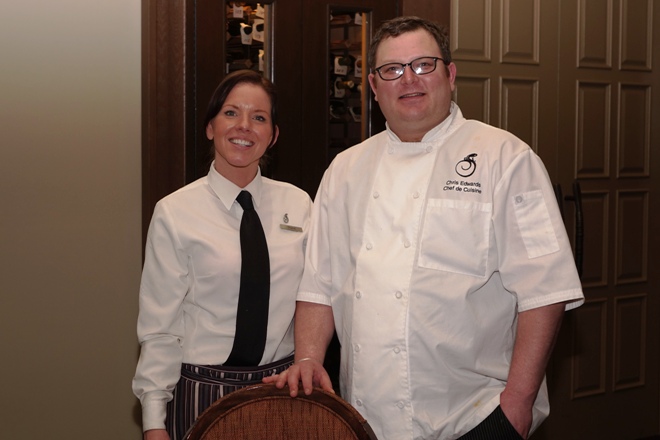 The snow had stopped. The meandering roadways completely shoveled. By now, we were on a first-name basis with everyone from the spa director, recreations coordinator, concierges, many of the guests, and very soon, the amazing chef de cuisine (Chris Edwards), restaurant manager (Alioune Ndiour), and dining server (Crystal Markie).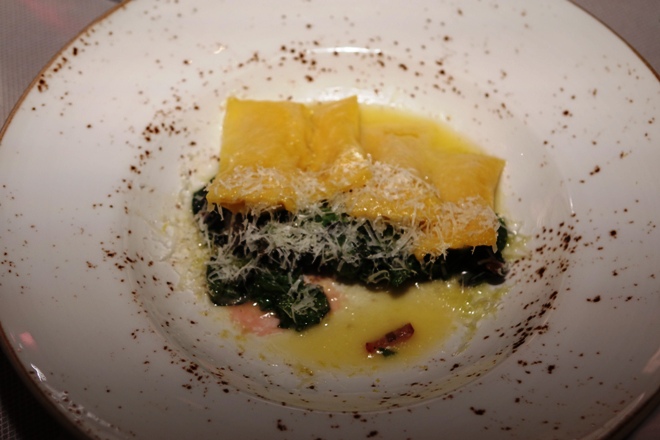 I knew we'd have a wonderful time. Many of my friends had already been and raved about the place. But I was not expecting the truly exquisite meal that awaited us in the Harrimans Room. Instinctively the seven of us ordered different first and second courses. The result, we managed to taste almost everything on the menu.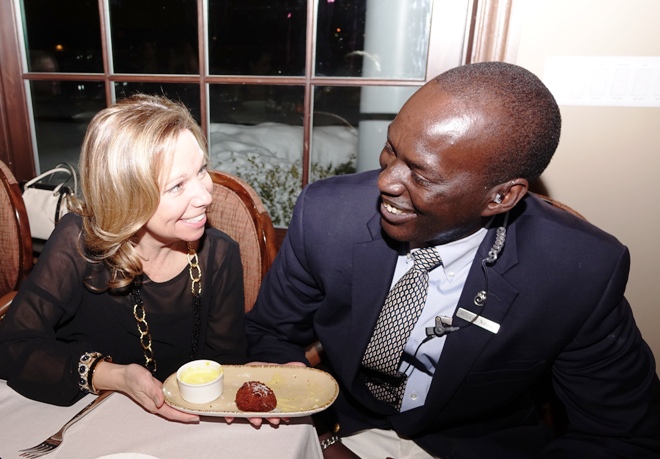 Chef Edwards came to our table and explained the inspiration behind his mix of international and locally sourced farm-to-table cuisine. Having trained under culinary titans Ferran Adrià (elBulli), Fabio Trabocchi and Todd English, this native Virginian continues to pay tribute to his mentors with every dish. Each night that can be up to 600 meals!
I had what turned out to be the chef's personal favorite on the current menu (it changes seasonally): Agnolotti "San Leo"(hand-made dumplings stuffed with fresh ricotta cheese spiced with cinnamon and lemon zest served over wilted Swiss chard) and Seared Georges Bank Sea Scallops with brown butter-roasted cauliflower, pantelleria capers, golden raisins, and iberico ham.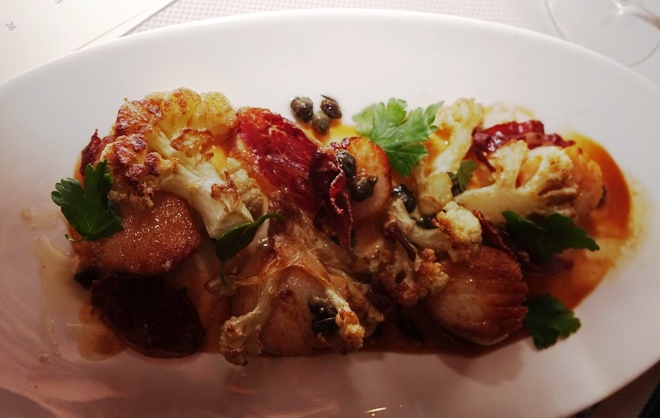 As you can see, the number of ingredients in each dish are numerous and rarely repeated. And that goes for everything on the extensive menu. The Rare Seared 64 Day Dry-Aged Beef Carpaccio with mustard greens, carmelized garlic sauce, prawn crackers and key lime was a most memorable exotic surprise.
I must mention the Risotto Fritters, a signature dish we all enjoyed, but none more so than one particularly discriminating diner. With an extensive and impressive wine menu, we wanted to honor the region and selected a smooth merlot from Equations, Breaux Vineyards in Purcellville. I had a delightful, crisp Sauvignon Blanc from Merlin Cherrier.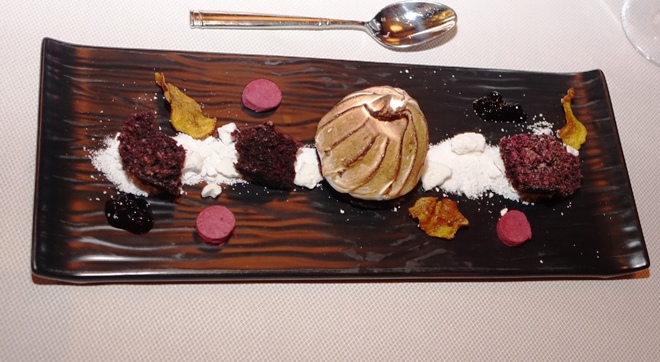 We didn't have room but we had to sample the Baked Alaskan "Fireball" made with cinnamon-chile ice cream, original red velvet beet cake and huckleberry mousse. Wow!
After a night cap and sweet dreams (assured by two pecan-butterscotch scones awaiting us in our rooms), we awakened to clear skies.
Off to the races, Well not exactly but off to the Equestrian Center to meet the nine permanent equine residents who majestically give guests the scenic tour. This morning they were romping in the snow.
It doesn't get any more picture postcard than this.
We're booking our summer retreat now. And in the meantime, next time you're there, look for The Hunt by Jan Neuharth (our livre du mois) tucked into the library book shelf.