Salamander Resort & Spa is Now Open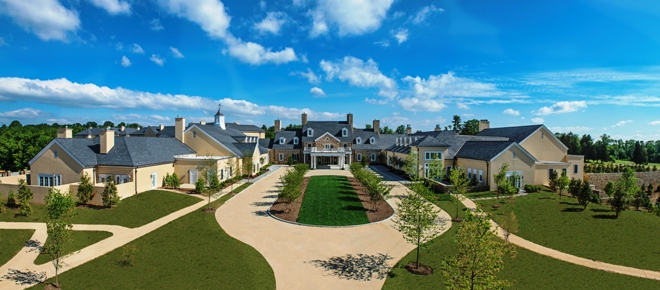 Imagine a world-class destination resort an hour from Georgetown. Sheila C. Johnson did. The long-anticipated Salamander Resort & Spa in Middleburg opens Thursday, August 29, 2013.
The 340 acre property was designed to blend into the surrounding rolling countryside and respect the traditions of Johnson's own nearby Virginia farm, which served as architectural inspiration. Salamander Resort & Spa features 168 rooms and suites originally fashioned by renowned designer Thomas Pheasant.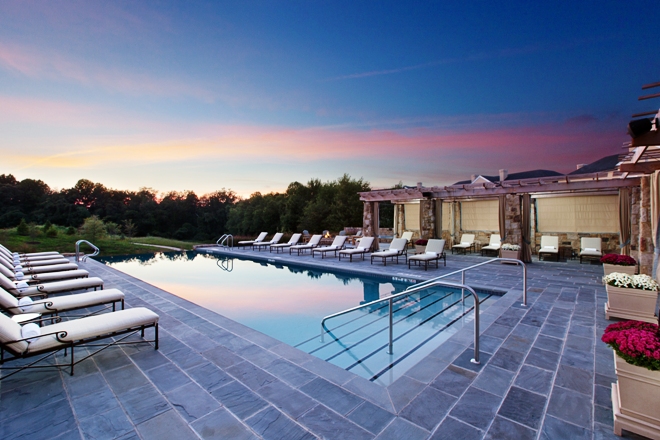 "From the moment I stepped foot on this serene land 10 years ago, I fell in love with it and envisaged creating an iconic retreat – one where guests would enjoy life-changing experiences complemented with exceptional service," said Johnson, whose vision and unfailing persistence has endured. "As the resort approaches completion, I am extraordinarily proud of what we have created. It will serve several purposes to many, including a gathering point for the community, a political retreat for Washington, D.C., and an exciting new destination for travelers from all over the world."
In 2005, Johnson founded Salamander Hotels & Resorts to manage the development of the project. But it's been over 50 years ago that Middleburg captured the nation's attention. Already the nation's unofficial equestrian capital and a town that played prominent roles in both the Revolutionary and Civil wars, it was then-President John F. Kennedy and First Lady Jackie Kennedy who drew the media in. The world followed Jackie, an avid equestrian, as she spent hours riding – including on the Salamander property – while the President even held press conferences in the village.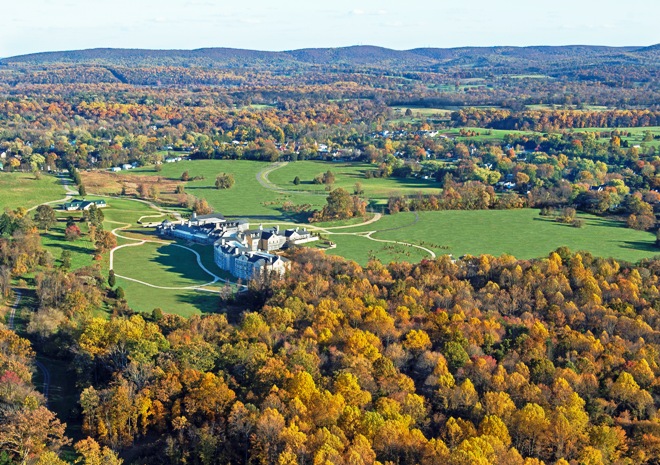 Today, Middleburg still remains a one-stoplight-village with quaint stores and historic sites. And now, at the end of a winding, half-mile driveway, there's Salamander Resort & Spa. Their culinary program is overseen by award-winning Chef Todd Gray of Equinox restaurant in Washington, D.C. And the Gold Cup Wine Bar is designed like a winery tasting room with flites of wine from around the world and a creative menu that offers small plates inspired by the Italian Piedmont.
Speaking of wine, Salamander Resort is positioned at the center of Northern Virginia's emerging wine country. The area's winemakers will regularly offer tastings at the resort.
"Salamander Resort & Spa may be in one of the most exclusive locations in the country, but its access from major cities around the world is unparalleled," said Prem Devadas, president of Salamander Hotels & Resorts. "In addition to the close proximity to Dulles, it is only 60 minutes from Reagan National Airport and 90 minutes from Baltimore-Washington International Airport. The resort's geography, facilities and setting complement each other beautifully, and there is now an exciting new option for meeting or wedding planners seeking a one-of-kind, undiscovered destination."
Rates during peak season at Salamander Resort & Spa range from $425 to $575 per night and non-peak season rates begin at $275 per night. Suite pricing ranges from $775 to $3,500 per night. Special group rates, pre-opening packages and creative teambuilding options are also available.