Safeway plans to open more commercial space next year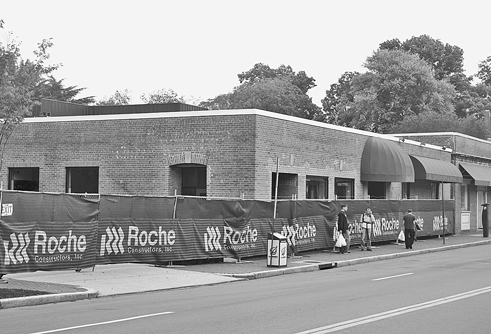 By Brady Holt...Current Staff Writer...
Safeway is on target to open a new commercial strip next door to its Georgetown store in late 2012, a company spokesperson said, replacing part of a surface parking lot and upgrading existing retail space.
The project will comprise three new storefronts facing Wisconsin Avenue built on the existing parking lot immediately south of Safeway, along with space for three more retail tenants in an existing building there. The two buildings will be connected with an arch, which will run over a driveway providing access to rear surface parking.
Safeway broke ground on the project last month, company spokesperson Craig Muckle said, in an effort to make the site match the high standards of the recently overhauled supermarket, widely known as the "Social Safeway."
"Basically, it's about continuing the consistency of the existing property now — the Georgetown store," said Muckle.
The company hasn't yet identified new tenants for the space or confirmed whether the most recent retailers, such as Einstein Bros. Bagels, will be returning, he said. The company has faced some criticism with the retail tenants within the Safeway building itself — a cellphone store, nail salon and pet supply store — which some said were underwhelming for the neighborhood.
Muckle said he hopes Georgetown residents will be pleased with the project and the retail Safeway lines up for it. "I know that's important for the neighborhood, and hopefully [we will] offer more of the other services that the residents might want," Muckle said.
In several recent and planned projects around the District, Safeway has added or is adding housing and underground parking garages on its retail sites — decisions the Zoning Commission recently praised in the company's plans for a new Petworth supermarket. Muckle said the chain avoided anything overly large-scale for the Georgetown shopping center plan because officials feared a fight with neighbors. "We didn't think it would be accepted at all," he said.
According to property records, Safeway purchased the retail center at 1815 Wisconsin Ave. for $4.2 million in July 2008. Muckle said the redevelopment plans have been in the works for more than a year; the rebuilt 71,000-square-foot Safeway supermarket opened in May 2010.
This article appears in the Sept. 28 issue of The Georgetown Current newspaper.