A safer and quieter neighborhood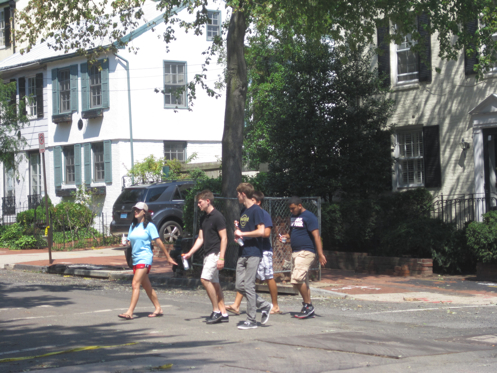 For neighbors, it's a noise issue. For students, it's a safety issue. For Georgetown University, it's both in one.
The weekend foot traffic between the M Street bars and Healy Gates causes considerable noise. I'd be dishonest if I did not confess that I have been party to an occasional loud group of students making its way from Rhino back to campus, with a stop a Tuscany Pizza along the way.
But I'd also be dishonest if I did not additionally confess that my occasional late-night walks on Prospect St. can give me pause – especially after reading the countless Department of Public Safety reports detailing the string of assaults perpetrated upon unsuspecting students.
For Georgetown University, this is a two-pronged issue. The undeniable student noise on the weekends certainly makes elements of the campus plan debate all the more heated. But – more importantly, no doubt – the late-night safety of students is an imperative that the school strives tirelessly to ensure.
That's why two new student safety initiatives – an M Street late-night shuttle loop and doubling the presence of off-duty Metro officers – make so much sense.
Georgetown has introduced a new shuttle dedicated to transporting students between campus and M Street on Thursday, Friday, and Saturday between the hours of 10 p.m. and 3 a.m. This will not only decrease the amount of noise made by students, but it will also free up other "Safe Rides" vehicles so they can respond more quickly and efficiently to other students. These new initiatives are especially welcome given the increase in off-campus crime levels witnessed in recent months.
The number of off-duty Metro police officers that patrol Georgetown during the week and weekends has also been doubled. First and foremost, this should act as a deterrent to criminals seeking to take advantage of students. In the unfortunate event that it does not deter these criminals, it will at least enable a more swift response, increasing the likelihood of catching the perpetrator. The increased presence will also likely make students more cautious when making noise on the weekend.
But it's extremely important that the university diligently survey the long-term effectiveness of the added MPD presence. If crime does not abate and the number of students facing scurrilous charges for ridiculous violations (such as the ill-fated 61D law) increases, then the school ought to reconsider its prerogative. The Student Association will be watching this particular issue closely because, while student safety is paramount, it should not be paired with an unfair treatment of students as suspects.
Both neighbors and students should be thankful for these new developments. But I'd like to specifically emphasize these two new initiatives to the neighbors. As we seek to hold a constructive dialogue on the 2010 Campus Plan, it is imperative that stakeholders acknowledge the concrete steps taken by Georgetown University to make our neighborhood a safer and more hospitable place. Continued claims from the ANC and the Office of Planning that Georgetown and its students do not take seriously their responsibility as members of the community are simply unfounded. Not only will the new M Street loop and the increased MPD presence make students safer, they will make the lives of everyone living in Georgetown a little bit easier.
Just as GERMS, the Georgetown Samaritans, DPS, SNAP, and all the student consumers represent a positive externality to the Georgetown neighborhood, so too does Georgetown University's commitment to making our community a safer place through these new initiatives. To deny this is to admit a biased and uninformed understanding of the prevailing issues facing the greater Georgetown area.
Mike Meaney is President of the Georgetown University Students Association and a regular columnist for The Georgetown Dish.