S-t-r-e-t-c-h-i-n-g it all out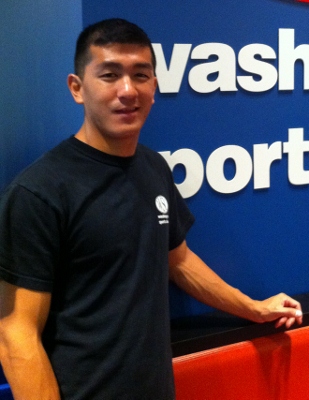 A master trainer with the Washington Sports Clubs (a club is located at The Shops at Georgetown Park and another in Glover Park) was named the 2011 Business Driver of Quarter One among all personal trainers within the Town Sports International network which includes more than 150 facilities in Washington, D.C., New York, Boston and Philadelphia.
He is Devlin J. Barnes, a former professional soccer player who lives in Northwest DC.
"On a personal level Devlin is the type of trainer that draws you in immediately when you meet him. His warm, friendly, engaging personality allows you to see why his clients continually renew," said Mark Mitchell, general manager for Washington Sports Clubs Gallery Place.
A client said: "He is expert in training people like myself, who have osteoarthritis. After he started training me, I have no more shoulder pain, no more knee pain, and no more hip pain. For this reason alone, I would give him an outstanding rating."
Barnes, who has been training for more than six years, has built up a large client base that includes both men and women at varying levels of fitness. The former pro soccer player entered the personal fitness industry in 2005 as something to do during the offseason. He quickly saw the effect he could have in people's lives and began training full time the next year.
He moved steadily up the ranks, eventually becoming a master trainer, the highest level among NASM professionals.
Barnes graduated from the University of Massachusetts-Amherst in 2004 with a sports marketing degree. He was an All-Atlantic 10 performer and team MVP for the UMass Minutemen. Following college, Barnes played for the Philadelphia KiXX of the Major Indoor Soccer League before moving to the outdoor ranks with the United Soccer League's Atlanta Silverbacks, Wilmington Hammerheads, Pittsburgh Riverhounds and Real Maryland. He now plays in leagues in the D.C. area.
Town Sports International is the public company that owns the WSC brands, among other clubs elsewhere. Ten are in D.C. and close in Virginia.