The Royal Ballet Performs 'Don Quixote' at Kennedy Center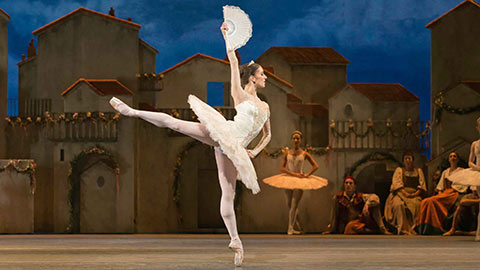 Great Britain's acclaimed The Royal Ballet returns with the U.S. premiere of Carlos Acosta's new Don Quixote at The Kennedy Center's Opera House June 9-14, 2015.
The story follows the eccentric knight and his loyal squire--and young lovers Kitri and Basilio--through hilarious misadventures in search of true love. The ballet is filled with spectacular sets and costumes, gypsy dancers and musicians, and virtuoso dancing.
Production and Choreography by Carlos Acosta, after Marius Petipa. Music by Ludwig Minkus, arranged by Martin YatesPRINCIPAL CASTING (Kitri and Basilio) subject to change:Marianela Nunez, Carlos Acosta – Tue., June 9 & Fri., June 12 at 7:30 p.m.Sarah Lamb, Federico Bonelli – Wed., June 10 at 7:30 p.m.Iana Salenko, Steven McRae – Thu., June 11 at 7:30 p.m., Sat. June 13 at 1:30 p.m.Natalia Osipova, Matthew Golding – Sat., June 13 at 7:30 p.m.Roberta Marquez, Alexander Campbell – Sun., June 14 at 1:30 p.m.For tickets, click here.