Rose Park Farmer's Market Opening - It's Asparagus Season!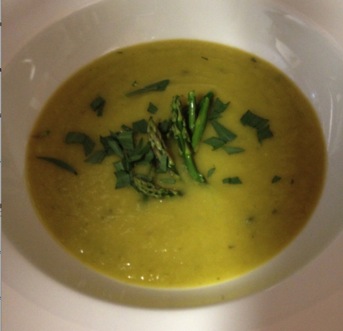 I'm thrilled to be the bearer of good news: The Rose Park Farmer's Market is finally open Wednesday, May 6 from 3:00 to 7:00 pm. And even more delighted to tell you that asparagus** is on the menu. And what's better: it's locally grown and freshly picked by Jim and Alice, the owners of Anchor Nursery.
There will also be kale, spinach, lettuce, spring onions, bok choy, lots of bedding plants and cut flowers including tulips and lillies.
I'm taking advantage of the fresh asparagus myself and my Puree of Asparagus Soup with Tarragon is a favorite recipe of everyone who tries it. You can buy the fresh tarragon and thyme at the market too. I have many more favorite asparagus recipes, and more farmer's market recipes in my Diet Simple Farm to Table cookbook.
Puree of Asparagus Soup with Tarragon By Katherine Tallmadge, M.A., RDN., L.D. Author: "Diet Simple: 195 Mental Tricks, Substitutions, Habits & Inspirations" www.KatherineTallmadge.com
This sublime, pale green soup may be served warm or cold.
Serves 8 to 10
Ingredients: 2 pounds Asparagus, cleaned, tough ends removed, cut into 1.5 inch pieces 1 Tablespoon Canola Oil 1 Leak, cleaned and sliced, white and light green parts only 1 medium Onion, chopped 1 clove of Garlic, mashed Pinch of Salt and Freshly Ground Pepper Vegetable Broth (see recipe) or Chicken Broth 2 Medium Potatoes, diced 1 Bay Leaf A few sprigs of Fresh Thyme and Parsley 1 Tablespoon Fresh Squeezed Lemon Juice Garnish: 1 Small Bunch Fresh Tarragon, choppedVegetable Broth: Use the cleaned tough ends and scraps of the asparagus and leek. Add 1 onion, 1 garlic clove (or more), and 2 quarts of water. Other vegetables you happen to have could also be thrown in, such as a carrot and/or a celery stalk. Let simmer about 30 minutes and strain.
Soup Preparation: Clean the asparagus, break off tough ends. If you wish, peel the stalks for a more tender vegetable. Slice the asparagus stalks into approximately 1.5 inch pieces.
Heat oil in heavy-bottomed pan. Add the leak, onion and garlic and cook over medium heat until softened, about 5 minutes. Add the broth, the potatoes, and herbs and simmer about 30 minutes. Add half of the asparagus and simmer another ten minutes. Remove the herbs.
Using an immersible hand blender (ie, Cuisinart's Smart Stick), puree the soup, add the lemon juice and salt and pepper to taste.
Meanwhile, steam or broil the remaining asparagus for 5 minutes, until barely tender. Strain and cover in ice water to stop the cooking process and prevent limp, over-done asparagus.
Serve the soup, garnishing each bowl with the sliced asparagus and a pinch of chopped fresh tarragon.
**Asparagus is packed with nutrients. Low in calories, it's an excellent source of folic acid, Vitamin C, Thiamin, and Vitamin B6. Asparagus, like other fruits and vegetables, is sodium-free, and contains no fat or cholesterol. It is an important source of potassium and many nutrients for boosting your immune system, preventing heart disease, lowering blood pressure and even preventing cancer. Asparagus has the highest levels of Glutathione, a potent cancer fighter , according to the National Cancer Institute. Asparagus is also high in Rutin, valuable in strengthening the blood vessels.
Puree of Asparagus Soup with Tarragon is adapted from "The Vegetarian Feast" by Martha Rose Shulman, a cookbook I highly recommend.
Find more of Katherine's Market Recipes in her "Diet Simple Farm to Table Cookbook: 50 New Reasons to Cook In Season!