Rose Park Dedicates Tennis Courts to Peters Sisters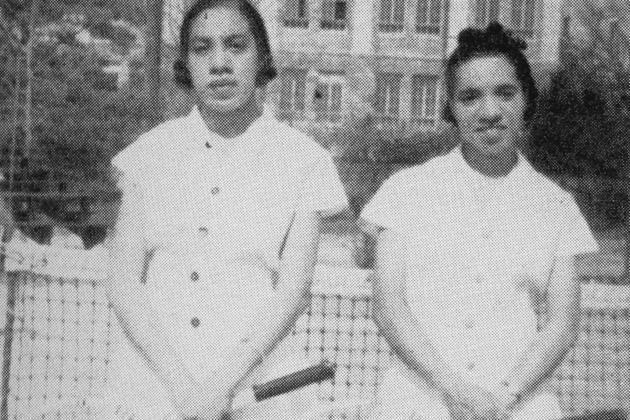 Ward 2 Councilmember Jack Evans' proposal to the DC Council to symbolically designate the Rose Park tennis courts at 2600 O Street as the Margaret Peters and Roumania Peters Walker Tennis Courts was approved this summer and a formal dedication ceremony will take place on October 24, 2015.
Sisters Margaret and Matilda Roumania Peters (1915 – 3 Nov. 2004 and 1917 – 16 May 2003), nicknamed "Pete" and "Repeat," gained local distinction playing tennis on the clay courts at the Rose Park playground near their R Street home in Georgetown.
Trailblazers for black women in professional tennis, they played in an era when blacks were segregated from whites in both national and international competitions. In 1936 both sisters were invited to play in the ATA national championships in Wilberforce University in Ohio. The ATA had been founded in 1916 by a group of African American businessmen, college professors, and physicians who wanted to promote the game of tennis and provide a forum for competition at the national level. The ATA provided the finest competition for blacks in the United States at the time.
In 1937 the Peters sisters entered Tuskegee together where they would become the best African American tennis players in the nation at the time. They won fourteen doubles titles between 1938 and 1941 and between 1944 and 1953. Roumania also won ATA national singles titles in 1944 and 1946. In her second title she defeated Althea Gibson, who won ten ATA national singles titles before playing a pioneering role in integrating tennis in the United States and around the world.
After graduating from Tuskegee in 1941 with degrees in physical education the Peters sisters continued to play amateur tennis in regional and national ATA tournaments. They played matches in front of British royalty and celebrities including actor Gene Kelly who practiced with both Roumania and Margaret while in DC.
Margaret, who never married, briefly moved to New York after graduation and earned a master's degree in physical education from New York University. She later returned to Washington, D.C., to work as a special education teacher. She earned a second master's degree in special education from Coppin State College in Baltimore, Maryland. She died in November 2004.
Like her sister, Roumania also earned a master's degree in physical education from New York University after graduating from Tuskegee. In 1957 she married James Walker, a math professor from Tuskegee who came to the college after seeing a picture of Roumania in a newspaper. They had a daughter named Frances Della and a son named James George together. Roumania worked as a teacher at Howard University in the 1950s and in the D.C. public school system from 1964 until 1981. Roumania taught tennis to underprivileged children through the department of recreation. In 1977 both sisters were inducted into the Tuskegee Hall of Fame. Roumania died in 2003 from pneumonia.
Margaret and Roumania only recently began to receive national acclaim for their accomplishments on the tennis court. But the league that previously banned them from competing, the United States Tennis Association (USTA), only began to recognize the Peters sisters in 2003. The USTA presented Margaret and Roumania with an "achievement award" prior to a Federation Cup match and in 2003 the USTA inducted both sisters into the Mid-Atlantic Section Hall of Fame.
Thanks to the Hutchins Center for African and African-American Research for background on the Peters sisters.