Rodgers Naylor at Susan Calloway Fine Arts Gallery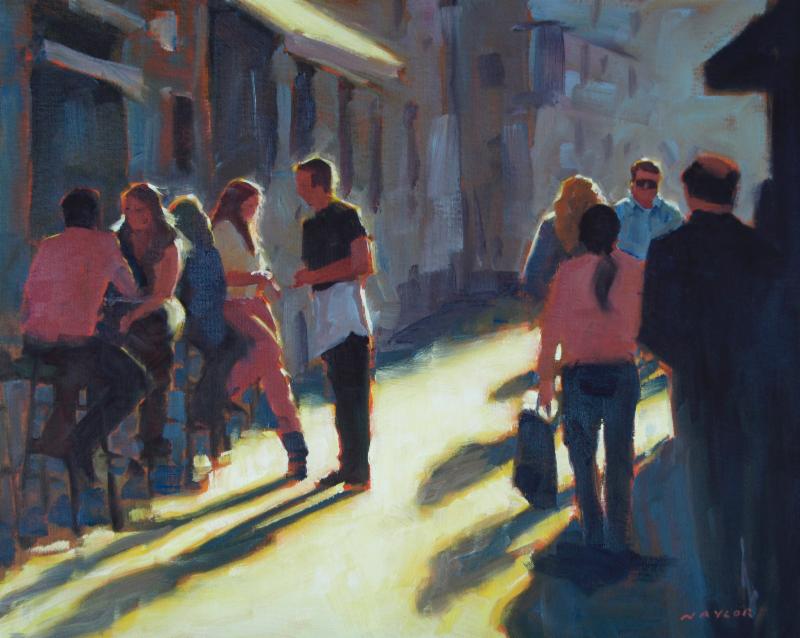 Join Susan Calloway Friday, March 28 from 6:00 to 8:00 pm for the opening reception of Rodgers Naylor's new exhibit.
In his recent work, Naylor explores the capacity of painting to express or imply a human story, while keeping his strong focus on the abstract arrangement of light and dark shapes in a composition. Most of these paintings contain human figures, always within the context of their environment and often with several figures, perhaps enjoying lunch together at a French café, or browsing at an outdoor market, or pondering great artwork at a museum.
The viewer is invited to consider the interactions among the characters in the paintings and between the characters and their surroundings. In this way the viewer completes the story that is begun by the painting. Many of the paintings are inspired by Naylor's recent travels in France, though the work is less about evoking a specific place than about observing and living life. His decisive and expressive style reflects his long training as a plein-air and alla-prima painter, though he has recently worked successfully on large numbers of paintings together over a period of many weeks.
Rodgers Naylor was born in Washington, DC in 1954 and spent his childhood on a farm near the Patuxent River in Maryland. He pursued painting and drawing at Minneapolis College of Art and Design, The Atelier in Minneapolis, and the Art Students' League of Denver after attending the University of Chicago and Carleton College for academics. Rodgers currently lives and works in the mountains of Colorado.
The show runs through April 26, 2014
Susan Calloway Fine Arts Gallery is located at 1643 Wisconsin Avenue. Tel: 202.965.4601