Rock Creek work revives path debate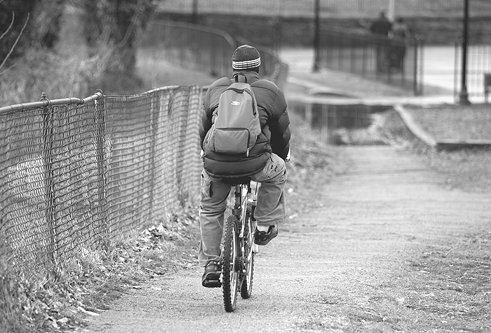 By Carol Buckley
Current Staff Writer . . .
As federal and city authorities gear up for a long-delayed rehabilitation project targeting the 3.7-mile Rock Creek Multi-Use Trail as well as a 2,600-foot-long path in Georgetown's Rose Park, residents are waiting to see whether history will repeat itself.
A proposal issued in 2000 -- and resurrected a handful of times over the past decade -- sought to widen the 4-foot-wide Rose Park path, which wends among trees and a tot lot, into a 10-foot trail. The wider trail would ease the way for users, bicyclists in particular, to access the existing Rock Creek trail via a renovated P Street ramp.
It's not yet clear whether an upcoming environmental assessment will yet again revive that proposal, which some residents say will encourage bicycle traffic along a path heavily used by pedestrians, including children.
With other neighbors, members of the Friends of Rose Park group have battled the idea in years past and say they are ready to do so again in order to preserve the pedestrian-friendly path.
The "Pedestrian Path … must be repaired 'as is,' i.e. in its current location and at its current width," wrote Friends board member Carol Harman in an e-mail to The Current.
What's more, she added, residents hope that the National Park Service will hold to its prior agreement not to widen the path.
In a letter three years ago, Rock Creek Park then-superintendent Adrienne Coleman wrote that "our position on the management of the Rose Park path has not changed. We agreed several years ago that the path should remain in its current location and at its current width." But, she added, the path remains a multi-use trail open to all users.
The local advisory neighborhood commission has also issued a precautionary resolution declaring that the trail should remain in its current form at its present location.
Residents say their opposition to widening the path is not an anti-bicyclist stance. Georgetowner Cary Mitchell wrote in a letter to The Current that the path is too heavily used by pedestrians, including many small children, to be safe for all users.
Mitchell, an avid cyclist, said that he has witnessed many "close calls," including cyclists forced to veer sharply around pedestrians and walkers forced to give way to bikers, as well as several accidents between cyclists and pedestrians. What's more, he added, the funds that would be used to widen the path would be better used to direct bikers to the Georgetown Waterfront via the existing multi-use trail rather than the Rose Park path, which ends at busy M Street.
Friends of Rose Park members also point out that alterations to the path are likely to injure large trees in the park, including one elm with a span of more than 100 feet, estimated Harman.
Shane Farthing, executive director of the Washington Area Bicyclist Association, said in an interview that he would like to see more details on the plan before staking out a formal position. So far, he said, he has heard both sides of the argument on the Rose Park path.
But Farthing said he and his membership are enthusiastic about the overall proposal to rehabilitate the very popular Rock Creek trail.
"It's in very poor condition right now," he said. Bumpy pavement and difficult-to-navigate choke points are the biggest challenges for cyclists, Farthing said.
To address those issues, the rehabilitation project -- which will include the Piney Branch Parkway Trail from Beach Drive to Arkansas Avenue -- proposes resurfacing and trail widening where feasible. Modified trail alignments and connections to other pedestrian and bicycle facilities are also part of the plan's scope, according to project documents.
The rehabilitation will also address poor drainage and "ponding" on the trail, an issue the city is trying to fix from beneath the park as well. The D.C. Water and Sewer Authority is now replacing a water main that runs beneath the park and supplies downtown and areas east of the Anacostia River with drinking water. The leaking pipe is close to the surface in the park, said a project engineer at a recent meeting, and as a result has led to intermittent standing water hazardous to motorists as well as trail users in a portion of the park.
The city and the National Park Service share authority over Rose Park, and they will also split the project's unreleased costs, said D.C. Department of Transportation representative Jim Sebastian. It will be largely federal dollars that fund the overall rehabilitation work, he said, though "we haven't identified the pots of money yet."
It's possible, however, that the federal funds could be better spent elsewhere in Rock Creek Park, according to Crestwood advisory neighborhood commissioner Gale Black. Maintaining the trail is one thing, she wrote in an e-mail to The Current, but restoring the public street at now-blocked Klingle Road should take precedence over the proposed widening and new alignments for recreational users if the funds could be used differently.
Restoring Klingle, now slated to become a hike-bike trail, for vehicular traffic is far more useful to the "safety and connectivity of the park" than expanded recreational uses, Black said.
The project is now in the scoping phase of a federally mandated environmental assessment. The public may comment at a meeting tonight, scheduled for 6 to 8 p.m. at the National Zoo's Visitor Center, 3001 Connecticut Ave. A draft environmental assessment will be released in May for public comment, and a final document will be issued in the summer.
This article appears in the Feb. 23 issue of The Georgetown Current newspaper.