Roberto Clemente Story Told in Musical at GALA Theatre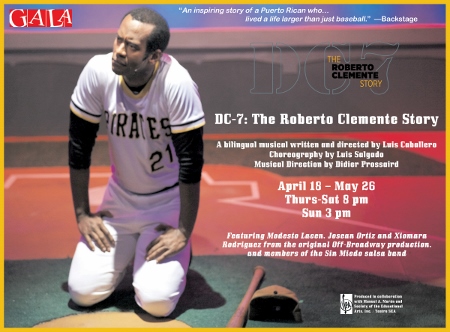 One of baseball's all-time greats both on and off the field is exciting fans this spring – not at Nationals Park, but in Columbia Heights at the Gala Theatre. The story of Roberto Clemente is told in musical form as a retrospective from his funeral.
Clemente died on December 31, 1972, in a plane crash while on a post-earthquake relief mission to Nicaragua. Weeks earlier, he had completed his 18th season with the Pittsburgh Pirates, reaching the traditional baseball greatness milestone of 3,000 hits as the season ended.
More than his Hall of Fame exploits on the field, the bi-lingual show in Spanish and English traces the human side of Puerto Rican Clemente, from his fight against discrimination to his many humanitarian efforts.
The D.C. presentation makes for something of a spring doubleheader about the ground-breaking integration efforts of mid-20th-century baseball players. The other half: 42, the movie about Jackie Robinson.
Like Robinson, Clemente spent a minor league season in Montreal. Clemente came to the major leagues in 1954, seven seasons after Robinson. But he still encountered discrimination in his team travels. His efforts led him to Dr. Martin Luther King and to actions on behalf of the poor in Puerto Rico and elsewhere.
Clemente was a serious man. But he played the organ, wrote poetry, and danced, making the concept of a musical about his life not so far-fetched.
The show is called DC-7: The Roberto Clemente Story.
DC-7 is the type of aircraft in which he was killed. Modesto Lacén, who originated the role of Clemente in 2012, Off-Broadway, is also the star of the Gala production. Luis Caballero, author of the story, lyricist, and co-composer of the music along with Harold Gutiérrez, is the director. In its debut season, the production won six ACE Awards, six ATI Awards, and two HOLA Awards.
Gala Hispanic Theatre is located at 14th Street and Park Road NW in the business heart of Columbia Heights, two blocks from the Columbia Heights Metro. The show runs through May 26. Parking is available at a discount in the Giant parking garage on Park Road NW
Ticket contacts are 202.234.7174 and Gala Theatre.