RIP Marion Barry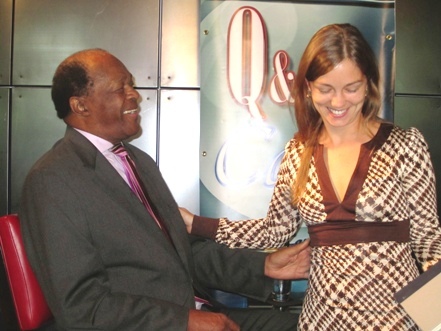 Marion Barry's death means the end of an era in DC. I moved to DC in 2002 and missed much of Barry's years in the spotlight, but I nonetheless have been fascinated with him.
I had the pleasure of meeting Barry at a Q&A Café organized by Carol Joynt a couple of years ago. To prepare for that lunch, I read Dream City: Race, Power, and the Decline of Washington (more on that below), and I have to admit that having met the (in)famous Barry, I like him a lot more than when I finished the book. He was charismatic and charming, indeed a man hard to resist, no matter what one thinks of his morals or his politics. Here are some highlights from that lunch.
On Georgetown
Barry: I love Georgetown, I love every part of the city. Georgetown residents just don't want to have anything change.
On DC Home Rule
While Barry thought Obama has indeed been good for DC, he wanted more. He wanted statehood for our Capital.
Barry: Democracy depends on democracy, yet we don't have democracy in our own home. We need statehood.
On DC Politics
Joynt: Are you going to run for reelection?
Barry: I'm smarter than that… than to answer that question.
On Family
Joynt asked Barry about his family. His son Christopher, now 32, lives in Ward 8 and runs a small business. "He is struggling, like most small businesses" admits Barry. And of course he is interested in politics "he's been around me his whole life…". About marriage, well, Cora did come up in conversation.
Joynt: Are you still married?
Barry: Technically, yes. [chuckle from the audience, pause] Cora and I separated.
On Addiction
Barry: The FBI spent 10 to 15 million dollars to frame me. The good news is that I have been clean since 1990. Joynt: You can only blame the government for so much.
Barry: I am a victim. They set me up. The jury understood that. Like many, I got caught in an addiction… 90 percent of those who get addicted don't kick it. I'm proud of that.
Overall, Barry said, that was "just a chapter in my life. Well, maybe two chapters." It's just about being a human being, about "human being issues, like traffic problems and girlfriend issues."
On Racism
Joynt: Where are we on racism?
Barry: There is racial division all over America.
Joynt: Do you think you are being racist when you slur against Asians?
Barry: No
Joynt: Are there any Asians on your staff?
Barry: No
Joynt: Are there any Latinos on your staff?
Barry: No
On the Media
Barry: The media in DC does not give me a fair shake. Absolutely not. That's their nature. Newspapers are supposed to report the news, not make the news.
On Power
Joynt: Whoever becomes the next Mayor of DC, do they need you?
Barry: Absolutely. I'm probably the most successful politician in Washington DC.
Joynt: Mayor for life. Who are you really?
Barry: I'm Marion Barry.
Just a few days following that Q&A Café, I had the priviledge of hosting Harry Jaffe and Tom Sherwood one book club evening, featuring that very same book Dream City: Race, Power, and the Decline of Washington. The two authors saw Marion Barry from two very different perspectives: while Sherwood was forgiving of Barry's actions, and gives him the benefit of the doubt, Jaffe was much less sentimental about this man that so fascinated people. The two best one-liners from that evening describe the two perspectives on Marion Barry:
"What makes Marion Barry Marion Barry are his human frailties."
"What Marion Barry does not have is discipline."
RIP Marion Barry.