Ride To Expansion & TV's House Hunters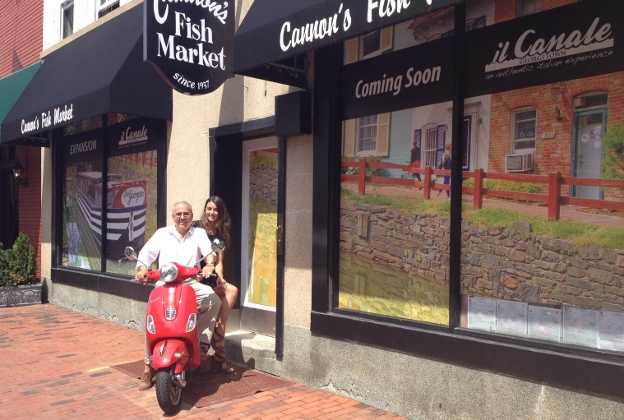 Il Canale, georgetown, owner Joe Farruggio sits on a classic Italian Vespa scooter in front of the former Cannon's Fish Market after inspecting the imaginative window treatment that portrays the historic C&O Canal.
The window treatment, which will be replaced when the project is completed, has been admired by many passers-by and fans of il Canale on 31st Street NW.
Farruggio, a native of Italy, is expanding il Canale ristorante and pizzeria by taking the old fish market space. The market has been closed for months. Both buildings are adjacent to each other.
Il Canale is slated to remain open for business throughout the extensive interior construction and decoration.
Enjoying the brief ride is il Canale hostess Rosalie Acampora.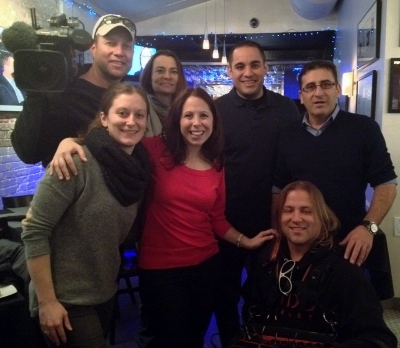 Speaking of expanded digs, this time on a national showcase level, il Canale was given considerable airtime Sunday in HTV's "House Hunters" featuring a young professional D.C. couple -- Ariel and his fiancee Julie.
The Home & Garden Television crew, a charming and fun-loving lot, filmed the couple discussing their housing options over a Sunday lunch at il Canale. Vittorio Rosso, il Canale's general manager, took over the on-camera duties of serving them lunch. The engaged couple toured properties in D.C. At first, they didn't see eye to eye on their housing options. She wanted a house with a yard and was open to renovate. He wanted a modern move-in-ready apartment or a condo close to work. They compromised. They bought a Watergate condo with a spacious balcony and a kitchen they plan to remodel.
The show with Il Canale aired twice on Sunday, July 20, 2014.