Richly Intense Strawberry Sherbet in Five Minutes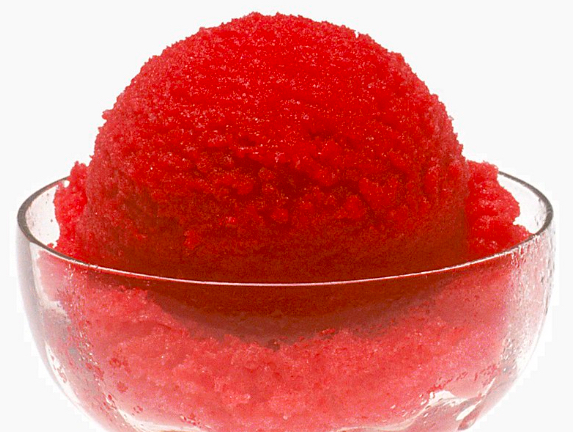 Five minutes? Yes, you heard right. Through the Salvation Army, I teach people recovering from drug and alcohol addiction - and often from the criminal justice system - the importance of including fruits and vegetables in their diets. Sound boring? It certainly could be. But not when we make recipes like this 5-Minute Strawberry Sherbet, adapted from a recipe by Kelly Senyei. It's a sure-fire way to make anyone actually crave fruits for dessert in place of less healthy choices.
This sherbet (sherbets often contain dairy, while sorbets don't) is luscious, creamy, and intensely flavorful. I bought the strawberries at the local Farmers Market for maximum succulence. The class hulled the berries and placed them evenly on a baking sheet. Then they (the strawberries, that is) went into the blisteringly cold Salvation Army walk-in freezer. While waiting for the berries to freeze, we reviewed a little lesson about the health benefits of strawberries. The class was especially excited hearing about strawberries' potential for reducing inflammation, the risk for cancer, heart disease, diabetes, cognitive decline, for stimulating the immune system, and more. They learned about oxidation's role in increasing disease, and how the more than 100 nutrients in strawberries serve as antioxidants, reducing the risk for those diseases.
I love teaching people who really need help and who benefit so much from my counseling and classes, from people with low literacy and low income - to sophisticated folks - in my classes and private practice. It is amazing how delicious food naturally attracts anyone to a healthy way of eating and living.
Here goes:
Place about 1 cup of Greek yogurt (plain or another flavor, like peach or vanilla) in a food processor. Add 8 cups of frozen strawberries, 2 Tablespoons of freshly squeezed Lemon or Orange Juice, and its zest if you like. Next, add honey or sugar to taste, about 4 to 6 Tablespoons.
Cut the recipe in half for a smaller party.
Blend for 5 minutes straight - no peeking! And, voila... you have a rich dessert everyone will love. If you'd like to be extra fancy, serve it in a stemmed crystal glass.